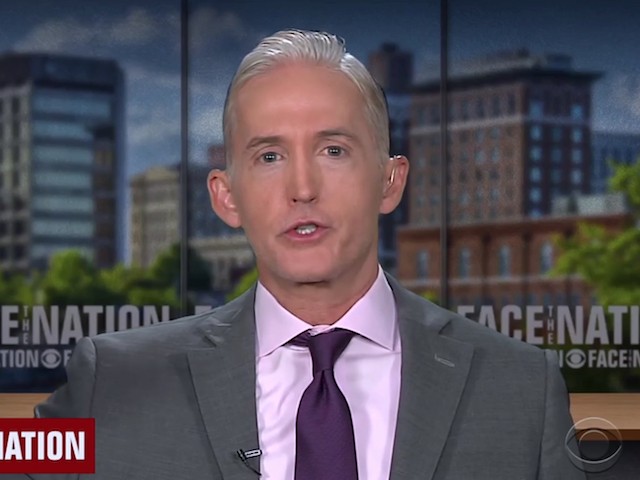 Sunday on CBS's "Face the Nation," House Intelligence Committee chairman Rep. Trey Gowdy (R-SC) said he was "concerned" President Donald Trump was dismissing a potential investigation into White House senior adviser Ivanka Trump's use of a personal email account to conduct government business.
Partial transcript as follows:
MARGARET BRENNAN: You've also put in a request this week to the White House for more information about why Ivanka Trump, a presidential adviser and obviously the president's daughter, was using private email for government- government business. People remember you well from the probe you lead into Benghazi that helped to uncover Hillary Clinton's use of private email. At the time you said that there should be prosecution of her for divulging classified information or in any way mishandling it. Would you similarly call for that kind of prosecution of the president's daughter?

GOWDY: Well I will defer to whatever tape may exist but I have assiduously tried to avoid ever calling for the prosecution of anyone including Hillary Clinton. And I'm pretty sure that's true because I've had a lot of Republicans upset with me. They're two separate issues, the divulging of classified information is a crime using personal email upon which to conduct public business is not a crime. You're not supposed to do it. It's not best practices. It actually violates statutes and regulations. Pub- Public work is-is a privilege and-and part of that is you give up the right to use your private email to conduct government work. So you should keep record. Ms. Clinton should do it, Eric Holder. Everyone throughout government who conducts official business should use official email. If you don't then you should take other steps to safeguard it. And- and that's what we need to know from Mr. Trump but I've never called for Hillary Clinton to be prosecuted and I couldn't possibly have done it for using private email because it's not a crime.

BRENNAN: Mishandling classified information. I think some have interpreted your past statements about that to have called for further actions but in this case the president has already said for Ivanka Trump that he thinks there is nothing to see here. Are you concerned that he is saying that at this point before there is an investigation by your committee?

GOWDY: I am concerned anytime any president prejudges the outcome of an investigation. Whether it's President Obama, whether it's President Trump. I've already talked to Ms. Trump's attorney. I've already talked to Mr. Cummings. We've already written a letter to the White House. Congress has a responsibility to make sure that the records and the Presidential Records Act is complied with and that is true no matter-no matter who the person is, whether it's Secretary Clinton or whether it's Tom Perez or whether it's Ivanka Trump. So we've taken steps, we've done more in the last week than in some of my house Democratic colleagues did the entire time we were looking into Benghazi. So I'm at peace with what we've done but we need the information and we need it quickly. And then the public can judge whether or not those two fact patterns are similar.
Follow Pam Key on Twitter @pamkeyNEN
http://feedproxy.google.com/~r/breitbart/~3/Ip33vnQM2EQ/