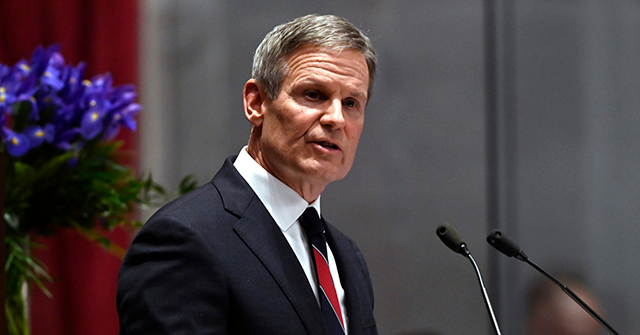 Gov. Bill Lee (R) called the Tennessee legislature into special session Friday night hoping to secure the red flag gun control he began pushing on April 11, 2023.
Breitbart News reported Lee, once a stalwart for Second Amendment rights, caved to the left in the week's after a 28-year-old transgender shot and killed six people at a Nashville Christian school.
On April 2, 2023, this author pointed out a red flag law would not have stopped the Nashville shooting from taking place because neither police nor the family of the 28-year-old transgender shooter were aware of the planned violence against the Christian school.
Nevertheless, Mike Bloomberg-affiliated gun control groups flooded the TN Capitol in the days and weeks after the transgender shot and killed six, and gun control proponents Sheryl Crow and Amy Grant met with Lee in hopes of persuading him to secure gun control.
WATCH: CHAOS in Tennessee: Gun Control Protesters Storm Capitol, Physically Block Legislators
Spencer Lindquist / Breitbart News
The Wall Street Journal noted Republicans in Tennessee's legislature are strongly opposed to Lee's gun control push. They responded to Lee's drive for red flag laws by tweeting, "Any red flag law is a nonstarter for House Republicans."
WPLN reported Lee's call for a special gun control session, the details of which are not yet known.
AWR Hawkins is an award-winning Second Amendment columnist for Breitbart News and the writer/curator of Down Range with AWR Hawkins, a weekly newsletter focused on all things Second Amendment, also for Breitbart News. He is the political analyst for Armed American Radio and a Turning Point USA Ambassador. AWR Hawkins holds a Ph.D. in Military History, with a focus on the Vietnam War (brown water navy), U.S. Navy since Inception, the Civil War, and Early Modern Europe. Follow him on Instagram: @awr_hawkins. You can sign up to get Down Range at breitbart.com/downrange. Reach him directly at awrhawkins@breitbart.com.
https://www.breitbart.com/2nd-amendment/2023/04/23/gov-bill-lee-calls-tennessee-legislature-into-special-session-for-gun-control/