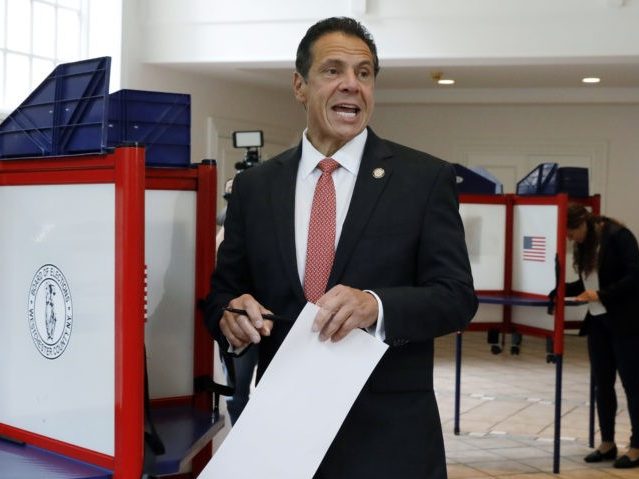 New York Democrat Gov. Andrew Cuomo agreed to debate his Republican challenger Tuesday in the first and only debate of the election season.
Cuomo and Republican gubernatorial candidate Marc Molinaro agreed on Monday to a Tuesday radio debate on WCBS-AM (880) in Manhattan which will be broadcast throughout the state on Tuesday at 7 p.m. on CBS 2 television and its affiliates.
Molinaro, who also serves as Dutchess County's executive, agreed to the Tuesday debate while pushing for two additional televised debates in upstate New York, but Cuomo eventually agreed to a taped radio debate that would air on television later in the evening.
The radio debate, which initially aired Tuesday afternoon, consisted of Cuomo boasting about his 2 percent spending cap for the state while Molinaro said that state government was shoving costs on the counties to hide the increase in state government spending.
Cuomo then began talking over his opponent, accusing him of making up facts.
"You're making up numbers again like you make up facts," Cuomo retorted, before attacking Molinaro as a "fiscal fraud."
"Let me finish my thought, sir," Molinaro demanded.
Things got personal in the debate when Cuomo attempted to link Molinaro to President Trump and the Republican majority in Congress.
Molinaro fired back at Cuomo, telling the New York Democrat that Trump attended his bachelor party.
"You, sir, had him at your bachelor party, I didn't,'' Molinaro said.
Cuomo had been skittish about debating his GOP challenger just weeks before the two are set to face off on Election Day November 6.
Molinaro, on the other hand, agreed to a televised debate on NY1 on October 24, and his spokesperson said the campaign also agreed to a debate sponsored by the League of Women Voters.
The Republican gubernatorial candidate called out Cuomo as a "political coward" for his tendency to duck debates.
The Democrat governor drew bipartisan criticism for not agreeing to debate his challengers from opposing parties, especially as he seeks a third term as New York's governor.
http://feedproxy.google.com/~r/breitbart/~3/gCW19xVJ008/