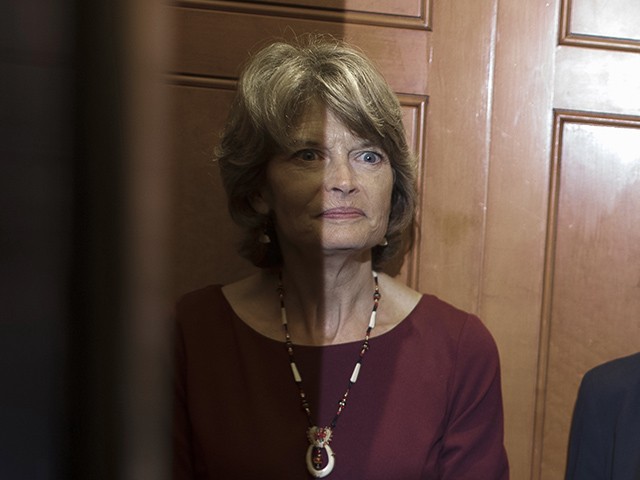 Sen. Lisa Murkowski (R-AK) unexpectedly broke with her party Friday and voted against ending debate on Supreme Court nominee Judge Brett Kavanaugh, reinserting doubts over his final confirmation.
The rest of the Republican Senate caucus — including the two other Republicans who have most publicly wavered on Kavanaugh, Jeff Flake (R-AZ) and Susan Collins (R-ME) — voted for "cloture," to end debate and set up a final Saturday floor vote on Kavanaugh's fate. Sen. Joe Manchin (D-WV) joined with Republicans, yielding 51 total votes and avoiding the need for Vice President Mike Pence to break the tie despite Murkowski's last-minute break.
The fourth-term senator has long fostered a reputation as one of the Senate's most liberal Republicans. Throughout the Democrats' ongoing attempt to derail Judge Kavanaugh's nomination, Murkowski has kept her cards close to her chest. Last week, she joined Flake and other reputed undecideds in supporting a seventh FBI background investigation of Judge Kavanaugh to focus on allegations of teenage sexual misconduct. Last Wednesday, she told CNN that such a probe "would sure clear up all the questions, wouldn't it?"
That FBI investigation made its final report available to senators on Thursday. All reports indicate it contained no corroboration of any of the allegations against Kavanaugh.
Nevertheless, Murkowski joined with Democrats in Friday's cloture vote. The move places Kavanaugh's confirmation, which had appeared very likely, in serious jeopardy. There is no indication Murkowski will change her vote to a yes in the final floor vote.
With Sen. Steve Daines (R-MT) potentially unable to vote Saturday due to his daughter's Montana wedding, Republicans may now need Manchin to cross the aisle again to ensure confirmation, even assuming the other unannounced Republican vote — Collins, who voted for cloture but will not announce her final voting intentions until Friday afternoon — falls their way.
Murkowski's office did not immediately respond to a request for comment regarding her cloture vote.
Breitbart News's Sean Moran contributed to the reporting in this article.
http://feedproxy.google.com/~r/breitbart/~3/oIost_nCDeA/