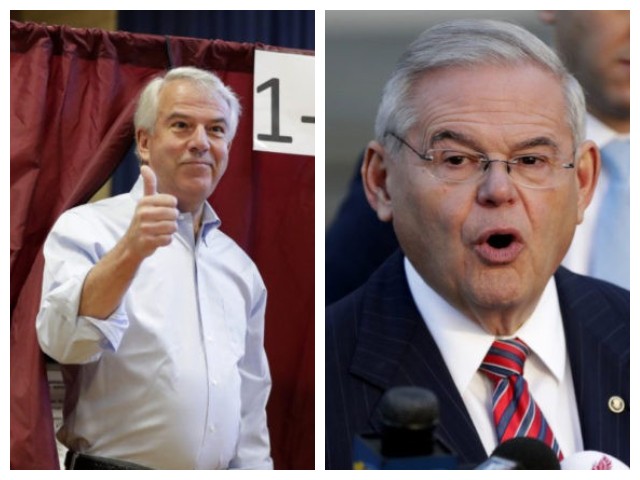 Republican nominee Bob Hugin is within striking distance of embattled incumbent Sen. Bob Menendez (D-NJ) with just two weeks until New Jersey voters select a U.S. Senator.
The Real Clear Politics Average of Polls gives Menendez an eight point lead, but a Stockton University Poll released on October 1 showed Hugin trails Menendez by only two points–well within the margin of error.
New Jersey has not elected a Republican to the Senate since 1972, but Hugin, a wealthy retired pharmaceuticals executive, has already put $24 million of his own money into his campaign to win the seat for the GOP, as NJ.com reported:
Hugin, a former Celgene Corp. executive, has pumped $24 million of his own money into the race, and his campaign has now outspent Menendez by almost 3 to 1, according to new Federal Election Commission filings.

Through Sept. 30, Hugin spent $22.7 million to $7.6 million for Democrat Menendez. He outspent Menendez, $14.1 million to $2.9 million, just in the last three months.

That money funded $9.3 million on media from July to September, compared with $1.8 million for Menendez.

National Democrats rushed to make up the difference, especially with most polls showing Menendez's lead within the margin of error.
Democrats have been abandoning the ethically challenged Menendez in droves, disgusted with the public corruption charges that caused the Department of Justice to indict him and his friend, Dr. Salomon Melgen, in April 2015.
Though Menendez escaped legal jeopardy after his trial ended in a mistrial in November and the DOJ subsequently dropped the case in January, the condemnation of the Senate Ethics Panel and the lingering doubts about his integrity has placed him in serious political jeopardy in his home state.
"New Jersey residents, in poll after poll, have expressed concern about the incumbent lawmaker, who escaped a verdict when his federal corruption trial ended in a mistrial last year. Dragged down by sky-high disapproval ratings, Menendez faces a close race to secure a third term in a state that hasn't elected a Republican to the U.S. Senate since 1972," NBC reported last week, adding:
"Certainly, the corruption accusations, even if they were dismissed, are out there in a big way, and they have been reinforced by the Hugin advertising juggernaut," said Ben Dworkin, the director of the Institute for Public Policy and Citizenship at Rowan University, in Glassboro, N.J. "That's sure to make a difference in how people view Bob Menendez."

Menendez, who was accused of accepting gifts from a convicted Florida ophthalmologist in exchange for advocating for his business interests, was later "severely admonished" by the Senate Ethics Committee.

Nearly a year later, voters haven't forgotten. Several polls show spiking levels of disapproval for the senator — who won re-election six years ago by nearly 20 percentage points — with the charges of corruption weighing him down heavily.
Last week, three independent Democrat elected officials from Union County publicly announced their endorsement of Hugin, bringing the number of prominent Democrats in the state who have endorsed him to ten.
That number is expected to grow over the final two weeks of the campaign.
Even the solidly liberal Philadelphia Inquirer only "reluctantly" endorsed Menendez in his race against Hugin.
The recent NBC report showing that early voter turnout in several states is higher among Republicans than among Democrats is not good news for Menendez if the same pattern develops in New Jersey. In order to retain his seat in the Senate, he will need a strong turnout from the Democratic base.
http://feedproxy.google.com/~r/breitbart/~3/OyfucByTVuI/