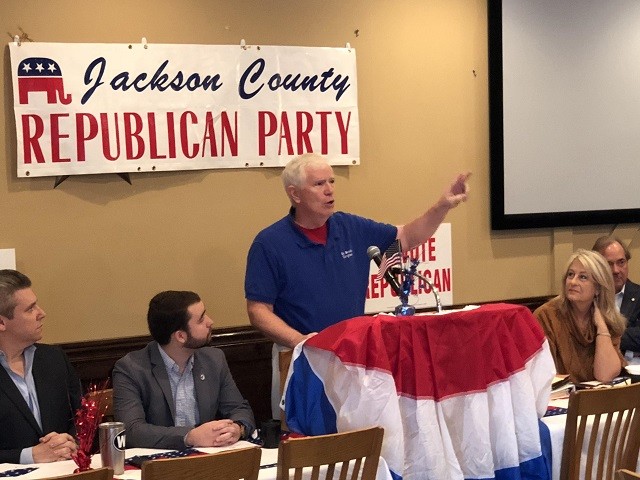 SCOTTSBORO, Alabama — According to Rep. Mo Brooks (R-AL), the "lawful" policy some municipalities around the country are implementing that allows illegal aliens and non-citizens to vote could be the nation's "biggest threat."
In a speech to a gathering of local Republicans in northeastern Alabama on Saturday, Brooks explained this effort underway in these cities is a trend the entire Democratic Party wants to adopt, and if successful it would dilute the vote of American citizens.
"This may be the biggest threat to our nation," Brooks proclaimed to the Jackson County, AL Republican Party gathering. "Democrats want non-citizens voting in our elections. Not only do they want that – there are about a dozen cities right now, Democrat-controlled cities – they have passed municipal ordinances that allow illegal aliens and unlawful immigrants to register to vote and actually vote in their local elections. That means it is no longer a United States that they're seeking. It's a United Nations of sorts where we are no longer Americans, as we have been for centuries. We're something different."
"That is the Democratic Party's position," he added. "The biggest city is San Francisco and don't take my word for this threat. Look at how these cities are lawfully registering [illegal aliens and non-citizens]. It's lawful because they're passing ordinances that allow illegal aliens and non-citizens to register to vote and then vote, thereby diluting the vote of American citizens."
Brooks argued that if successful, the United States' as we know it would be gone.
"It's a harbinger of things to come that they want nationally if they get the power to impose that kind of law nationally," Brooks added. "And if they do that, our country, our America as we know it – that beacon on the hill – is gone."
Earlier this month, Brooks also warned in an appearance on SiriusXM's "Breitbart News Saturday" that a push to count illegal aliens in the upcoming 2020 census could threaten the balance of power. He said that count would give more congressional representation to blue states that would elect Democrats to the U.S. House of Representatives.
Follow Jeff Poor on Twitter @jeff_poor
http://feedproxy.google.com/~r/breitbart/~3/OJgilFHgRqk/