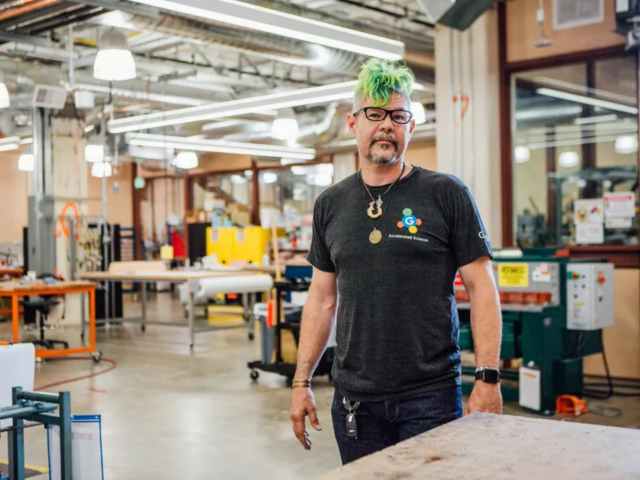 Rich DeVaul, one of the executives at Google parent company Alphabet accused of sexual misconduct in an exposé by the New York Times, has reportedly resigned from the company.
The Verge reports that Rich DeVaul, an executive at Google's parent company Alphabet, has resigned from the company after being named in a recent exposé by the New York Times which outlined a number of instances of alleged sexual misconduct by executives at Google, including DeVaul. DeVaul held the titled of "Director of Rapid Evaluation and Mad Science" at Alphabet X, the company's experimental projects division and reportedly did not receive any sort of exit package following his resignation from the company.
According to the report from the New York Times DeVaul invited hardware engineer Star Simpson, who was interviewing to work at Google, to the arts, culture, and music festival called Burning Man, telling her at the time that he and his wife were polyamorous. Simpson attended the festival believing that it may help her chances at getting hired. She went with her mother and brought her "professional attire" with her according to the Times. But at the festival, DeVaul encouraged Simpson to remove her clothing and asked to give her a massage.
Simpson later learned that she had not got the job at Google and that DeVaul was aware of this while attending Burning Man with her. Two years later, Simpson informed Google of the situation and says the company encouraged her not to publicly discuss the issue as "appropriate action" would be taken against DeVaul, however, he continued to work at the company. In a statement to the Times, DeVaul stated that he made an "error of judgment" and believed that Simpson knew she had not received the job at Google when she attended Burning Man.
The report from the New York Times titled "How Google Protected Andy Rubin, the 'Father of Android'" outlined how the progressive tech giant Google protected three executives that were accused of sexual misconduct for more than a decade. The article notes that Andy Rubin, the creator of the Android mobile operating system, left the company in October and was given a "hero's farewell" by executives at the company as well as a $90 million severance package.

Larry Page, Google's chief executive, commented on Rubin's departure in a statement saying: "I want to wish Andy all the best with what's next. With Android he created something truly remarkable — with a billion-plus happy users." The New York Times notes that in their farewell to Rubin, the company failed to mention that Rubin was leaving the company after a claim of sexual assault by a Google employee with whom Rubin had been having an extramarital relationship.
Rubin has denied any wrongdoing stating that the New York Times report featured "numerous inaccuracies about my employment at Google and wild exaggerations about my compensation." He continued to say, "These false allegations are part of a smear campaign to disparage me during a divorce and custody battle. Also, I am deeply troubled that anonymous Google executives are commenting about my personnel file and misrepresenting the facts."
Employees at Google have reportedly become outraged over the recent report from the Times and are allegedly planning a company walkout. A Google employee told BuzzFeed News recently: "Personally, I'm furious. I feel like there's a pattern of powerful men getting away with awful behavior towards women at Google' or if they don't get away with it, they get a slap on the wrist, or they get sent away with a golden parachute, like Andy Rubin. And it's a leadership of mostly men making the decisions about what kind of consequences to give, or not give."
Breitbart News previously reported that as many as 200 employees are expected to take part in the walkout. Read more about the planned protest here.
Lucas Nolan is a reporter for Breitbart News covering issues of free speech and online censorship. Follow him on Twitter @LucasNolan_ or email him at lnolan@breitbart.com
http://feedproxy.google.com/~r/breitbart/~3/z2c9wkIHLyA/