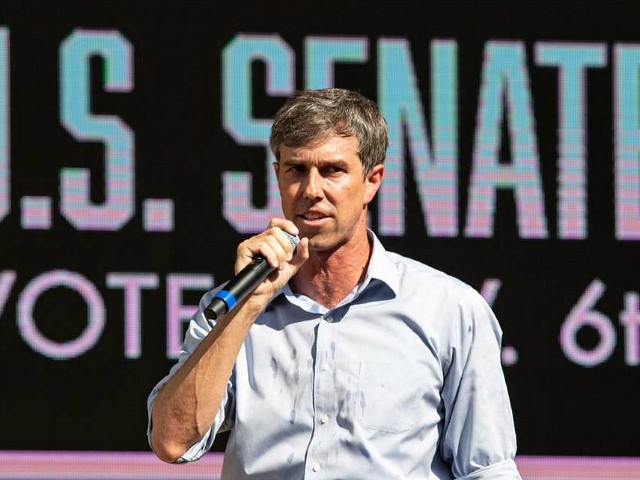 Big Tech company employees are pouring money into Democratic candidate Rep. Beto O'Rourke's senate campaign in an attempt to unseat Sen. Ted Cruz (R-TX), with employees from Google parent company Alphabet listed as the second largest donating force.
According to CNBC, employees at Google parent company Alphabet were the second largest contributor to O'Rourke's campaign overall, and came first on the list of Big Tech contributors, with Alphabet employees donating $157,189.
Overall, Alphabet was only beaten in donations to O'Rourke's campaign by employees of the University of Texas, who donated $296,123.
Microsoft came second on the list of Big Tech contributors, with employees donating $58,943, followed by Dell ($56,361), Facebook ($53,929), Apple ($52,494), and Amazon ($48,573).
"O'Rourke, a congressman who's running to unseat Republican Sen. Ted Cruz, is the top recipient of employee donations from Alphabet, Apple, Dell, and IBM, and a close second for Facebook, Cisco, Amazon and Microsoft. In total, the 46-year-old Democrat's campaign reeled in $38 million in the third quarter, compared with $12 million for Cruz," reported CNBC. "While the tech industry has long bent to the left on the political spectrum, it's veered further in that direction in the two years since the election of Donald Trump, whose positions on immigration, trade and civil rights are staunchly opposed across Silicon Valley."
"In an effort to put a check on the Trump presidency, tech workers are funding competitive contests that could potentially flip the House of Representatives in favor the of the Democrats and take out at-risk Republicans in the Senate," CNBC continued.
In comparison, Alphabet, Facebook, Amazon, Microsoft, and Apple did not appear within the top hundred contributors to Cruz's campaign.
On Tuesday, in an exclusive article for Breitbart News, President Trump's 2020 campaign manager Brad Parscale warned that Big Tech companies were preparing to influence the midterm elections.
"Unfortunately, Big Tech monsters like Google and Facebook have become nothing less than incubators for far-left liberal ideologies and are doing everything they can to eradicate conservative ideas and their proponents from the internet," declared Parscale. "This is an existential threat to our individual liberties as well as our system of government. Google and Facebook have shown that they will not hesitate to use their control over online content to suppress conservative thought and expression. Now, as we approach the midterm elections, they are clearly ramping up their purge of conservatives that first manifest in the 2016 presidential campaign."
In August, it was revealed that more than 1,000 Big Tech executives and employees had donated to a pro-Democrat super PAC since 2015.
http://feedproxy.google.com/~r/breitbart/~3/DGF1yro3iyo/