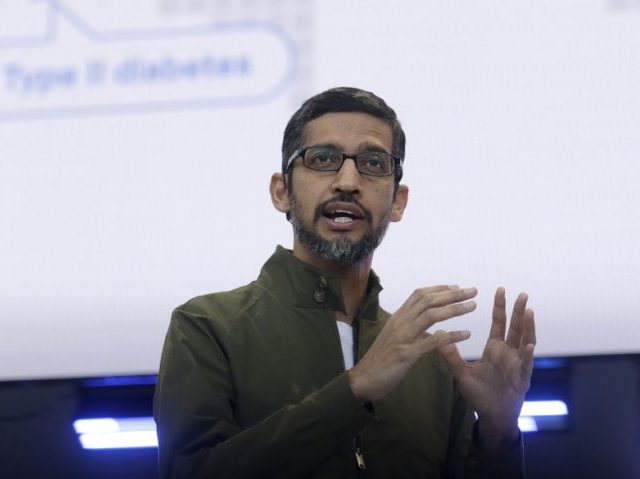 Ahead of future testimony before the House Judiciary Committee after the midterm elections, Google CEO Sundar Pichai recently met with GOP leaders concerned about the Silicon Valley giant's bias.
Following reports that Google CEO Sundar Pichai would testify before the House Judiciary Committee in relation to allegations of political bias within Google products and the company itself, CEO Sunday Pichai met with a number of White House representatives and Republican lawmakers. Pichai is expected to be questioned about political bias within Google, user privacy, the company's efforts to fight "fake news" and how it plans to interact with countries that have histories of human rights violations, such as China.
Last Friday, Pichai met with White House economic adviser Larry Kudlow where they discussed "a range of issues impacting internet platforms and the economy in general," according to White House spokesperson Lindsay Walters. Pichai has also reportedly accepted an invitation to attend a White Hosue rountable meeting with President Trump and other Internet stakeholders.
House Majority Leader Kevin McCarthy stated that Pichai met Republican lawmakers last friday in a meeting that was "very productive" and "frank." McCarthy further stated: "I think we've really shown that there is bias, which is human nature, but you have to have transparency and fairness. As big tech's business grows, we have not had enough transparency and that has led to an erosion of trust and, perhaps worse, harm to consumers."
Pichai said that his talks with Republican lawmakers were informative and constructive and he was dedicated to an "active dialogue with members from both sides of the aisle." Discussing his plans to testify before the House Judiciary Committee, Pichai previously stated: "I look forward to meeting with members on both sides of the aisle, answering a wide range of questions, and explaining our approach. These meetings will continue Google's long history of engaging with Congress, including testifying seven times to Congress this year."
Lucas Nolan is a reporter for Breitbart News covering issues of free speech and online censorship. Follow him on Twitter @LucasNolan or email him at lnolan@breitbart.com
http://feedproxy.google.com/~r/breitbart/~3/NWqehvC-Jq4/