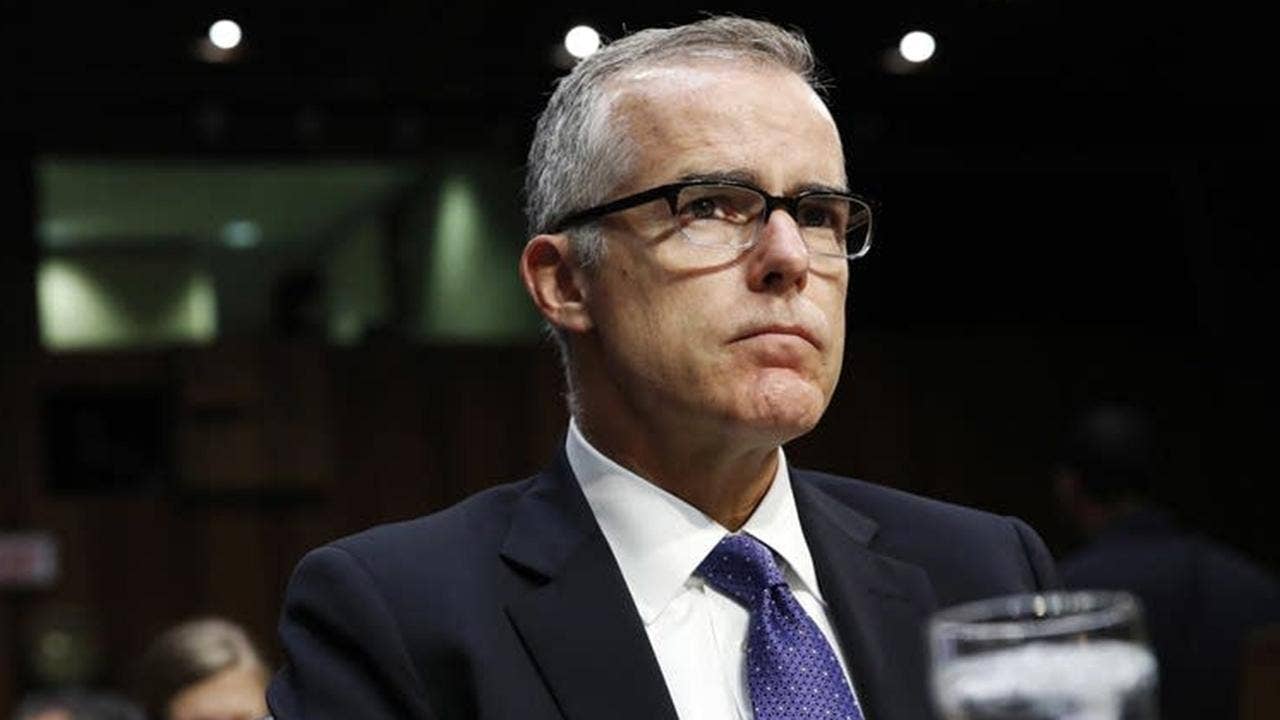 House Judiciary Committee Chairman Bob Goodlatte on Thursday subpoenaed the memos and materials belonging to former FBI Deputy Director Andrew McCabe as part of a joint investigation into decisions "made and not made" by the Justice Department and FBI during the 2016 election.
Goodlatte, R-Va., penned a letter to Attorney General Jeff Sessions Thursday notifying him of the subpoena, which was issued as part of his investigation with House Oversight Committee Chairman Trey Gowdy, R-S.C.
"Given the Department's ongoing delays and/or refusal to produce these documents, I am left with no choice but to issue the enclosed subpoena to compel their production," Goodlatte wrote to Sessions.
Goodlatte gave the Justice Department an October 4 deadline to provide the documents.
The Justice Department and a spokesperson for McCabe declined to comment.
A committee source told Fox News that the subpoena came in response to the report in The New York Times, which claimed Deputy Attorney General Rod Rosenstein suggested wearing a wire to secretly tape President Trump, and enlisting Cabinet members to invoke the 25th Amendment to remove Trump from office.
Rosenstein blasted the report as "false," and denied making those comments.
Sources told Fox News that the meeting where the comments allegedly were made took place at the Justice Department on May 16, 2017. Several people were in the room, including McCabe and former FBI counsel Lisa Page. Special Counsel Robert Mueller was appointed the next day.
According to The Times, details were confirmed by sources who were briefed on the discussions or memos written about the discussions by McCabe and others.
An attorney for McCabe issued a statement last week acknowledging that such memos exist.
"Andrew McCabe drafted memos to memorialize significant discussions he had with high level officials and preserved them so he would have an accurate, contemporaneous record of those discussions," McCabe's attorney Michael Bromwich said in a statement. "When he was interviewed by the Special Counsel more than a year ago, he gave all of his memos — classified and unclassified — to the Special Counsel's office. A set of those memos remained at the FBI at the time of his departure in late January 2018. He has no knowledge of how any member of the media obtained those memos."
Congressional investigators said McCabe's memos have been out of their reach, citing special counsel equities. They said the memos included real-time debriefs from former FBI Director James Comey after his meetings with Trump as part of the paper trail to build a possible obstruction case.
The special counsel's office declined to comment.
Trump is slated to meet with Rosenstein at the White House next week to discuss the alleged "wire" comments in the Times article. The meeting was delayed from Thursday.
There has been much speculation over whether Trump will fire Rosenstein during that meeting, but at a news conference on the sidelines of the United Nations General Assembly on Wednesday, Trump said his "preference would be to keep him, to let him finish up" the Russia investigation.
Rosenstein oversees Mueller's investigation into Russian meddling and potential collusion with Trump campaign associates in the 2016 presidential election.
http://feeds.foxnews.com/~r/foxnews/politics/~3/HAwbxhnHAnw/goodlatte-subpoenas-mccabe-memos-materials-in-response-to-rosenstein-wire-report.html