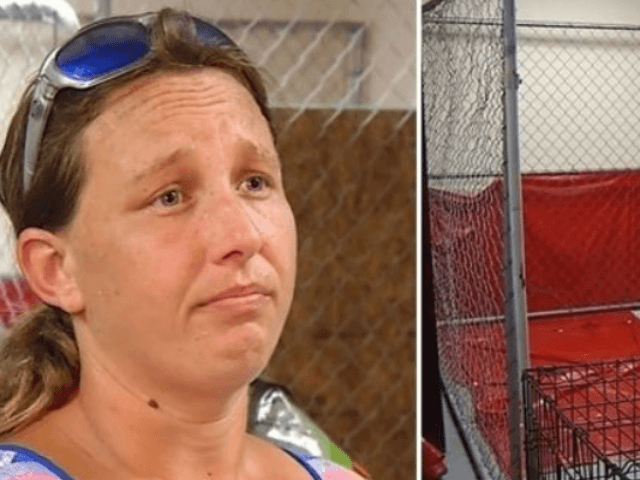 A Good Samaritan who serves as the director of an animal rescue nonprofit was arrested in North Carolina for sheltering pets during Hurricane Florence.
Wayne County officials arrested Tammie Hedges, who runs the Crazy's Claws N' Paws rescue in Goldsboro, and forced her to turn over 27 dogs and cats last Monday after Wayne County animal services determined the group was operating an unregistered animal shelter, the Goldsboro News-Argus reported.
The rescue announced Friday that Hedges had been arrested and taken to the Wayne County Detention Center before she was released on a $10,000 unsecured bond.
Authorities charged her with 12 misdemeanor counts of "practicing/attempting veterinary medicine without a license" and one count of "solicitation of a Schedule 4 controlled substance," Wayne County officials said in a statement posted to Facebook on Friday.
The county government's statement read, in part:
On Monday, September 17, 2018, Wayne County Animal Services responded to 152 NC Highway 581 in Goldsboro at the request of the NC State Department of Agriculture. Wayne County Animal Services made contact with Ms. Tammie Hedges and upon entering the facility they developed serious concerns regarding the practice of veterinary medicine without a license and the presence of controlled substances.
The county added that the animals surrendered to the county "were checked out by a licensed veterinarian and Animal Services is working to reunite them with their owners."
The rescue said officials charged Hedges because attempted to administer medication—including a Schedule 4 controlled substance—to needy animals when local veterinarians were not available and housed the animals in a temporary warehouse space.
The nonprofit, which serves several North Carolina counties, operates mainly out of pet foster homes. But even though Hedges housed the animals in a makeshift shelter to save their lives, the state says shelters cannot operate unless they are licensed.
A North Carolina statute requires that animal shelters acquire a certificate of registration from the Animal Welfare Section of the state's Department of Agriculture before they can legally operate.
Hedges says that while she fights the charges, she is working to turn the temporary shelter into a registered shelter.
http://feedproxy.google.com/~r/breitbart/~3/yjw1cBugG20/