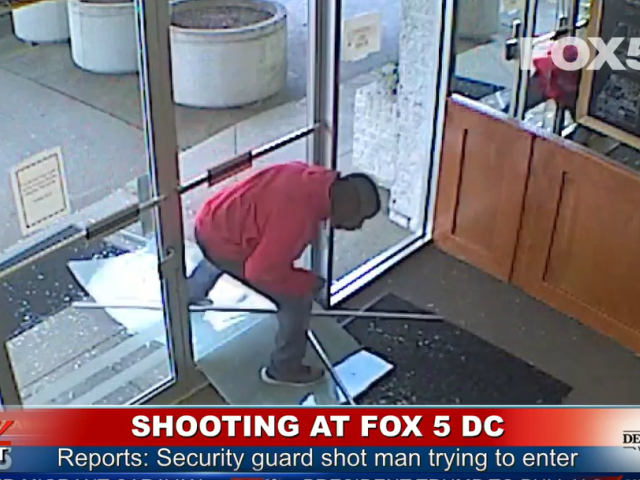 A suspect allegedly trying to break into Washington, DC's Fox 5 channel was shot by a security guard Monday afternoon.
The suspect was transported to a hospital in critical condition.
Fox 5 reports that police responded the alleged break-in and subsequent shooting around 3:15 pm.
Suspect in #FOX5DC security breach was 38 year old African-American man, shot by armed security guard. Transported to GW Hospital for treatment. https://t.co/R1VDrvi4gN

— Jim Lokay FOX 5 (@LokayFOX5) October 22, 2018
Fox 8 reports that the suspect was allegedly "trying to break in through the lobby."
Employees at Fox 5 are safe and police say there is no continuing threat.
Fox 5's Will Cockey tweeted video of the suspect being taken from the lobby to an ambulance outside the building:
#breakingnews : Man shot inside @fox5dc lobby. Stay tuned for more details. pic.twitter.com/eG80ZlNFMt

— Will Cockey (@willcockey) October 22, 2018
AWR Hawkins is an award-winning Second Amendment columnist for Breitbart News, the host of the Breitbart podcast Bullets with AWR Hawkins, and the writer/curator of Down Range with AWR Hawkins, a weekly newsletter focused on all things Second Amendment, also for Breitbart News. He is the political analyst for Armed American Radio. Follow him on Twitter: @AWRHawkins. Reach him directly at awrhawkins@breitbart.com. Sign up to get Down Range at breitbart.com/downrange.
http://feedproxy.google.com/~r/breitbart/~3/7kZRVVT6tNk/