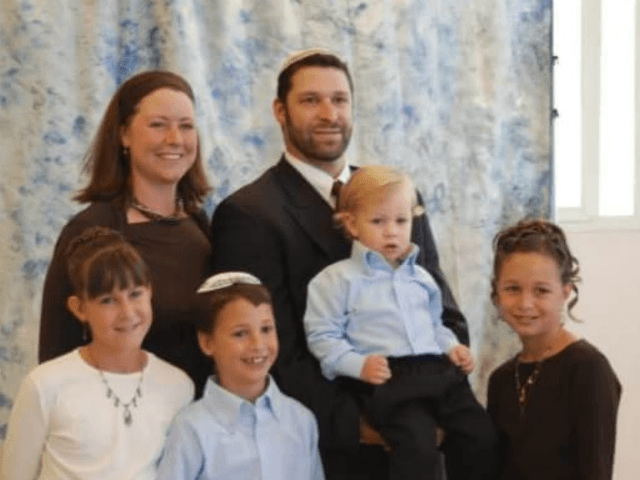 A fundraising campaign seeks to raise money to support the widow and orphaned children of Ari Fuld, the dual U.S.-Israeli citizen who was brutally murdered by a Palestinian terrorist on Sunday.
After being mortally stabbed in the back, Fuld pursued his 17-year old attacker, using his last conscious seconds to chase and shoot the terrorist assailant before Fuld collapsed on the ground. His actions, caught on surveillance video, likely saved more civilians from being stabbed.
Supporters started a GoFundMe page, which has been taken over by Fuld's family members and seeks to raise $1.2 million to sustain Fuld's widow and four children.  As of this writing, almost 9,000 individual donors have provided $946,649 to reach that goal.
The GoFundMe page states:
Ari selflessly raised money to improve the lives of the soldiers he served with, He gave his time to fight for Israel on the ground and in the cyber world. His loss is keenly felt in the pro Israel community. Ari did so much for Israel, we would like to do something for him. He leaves behind 4 small children. They need the support of our community. All funds will go directly to the family.
The Times of Israel reported on Fuld's pro-Israel activism:
Fuld worked at Standing Together, a non-governmental organization that provides support to Israeli soldiers. He also described himself on his website as an "advocate for Israel, [who] speaks to communities throughout the globe."

Fuld volunteered for military service in an IDF infantry brigade in a combat role, then served as a reservist. He was lightly injured in the Second Lebanon War.

He was a prominent member of the National Union party, including serving on its Central Committee. National Union is part of the Jewish Home faction in the Knesset. Ari's brother Eitan is the spokesman for Jewish Home MK Betzalel Smotrich.
After meeting with Fuld's family, Prime Minister Benjamin Netanyahu declared: "I've met the parents and wonderful brothers of this hero of Israel, Ari Fuld. I embraced them in the name of the entire nation in this time of terrible grief. We are alive thanks to heroes like Ari. We will remember him forever."
The terrorist was identified as 17-year-old Halil Yousef Ali Jabarin from the southern West Bank village of Yatta. He was treated at an Israeli hospital after being shot by Fuld and another armed civilian at the scene of the attack.
The Palestinian Authority has reportedly confirmed that Jabarin's family is eligible for the monthly stipends it pays to the families of Palestinian terrorists imprisoned inside Israel, financial support that many argue is designed to encourage further acts of terrorism against Israelis.
Amid reports of possible payments to Jabarin's family, President Trump's ambassador to Israel, David Friedman, slammed the practice as "unconscionable" and said it "must stop if there is to be any hope for peace."
Aaron Klein is Breitbart's Jerusalem bureau chief and senior investigative reporter. He is a New York Times bestselling author and hosts the popular weekend talk radio program, "Aaron Klein Investigative Radio." Follow him on Twitter @AaronKleinShow. Follow him on Facebook.
http://feedproxy.google.com/~r/breitbart/~3/yohv25PH0m4/