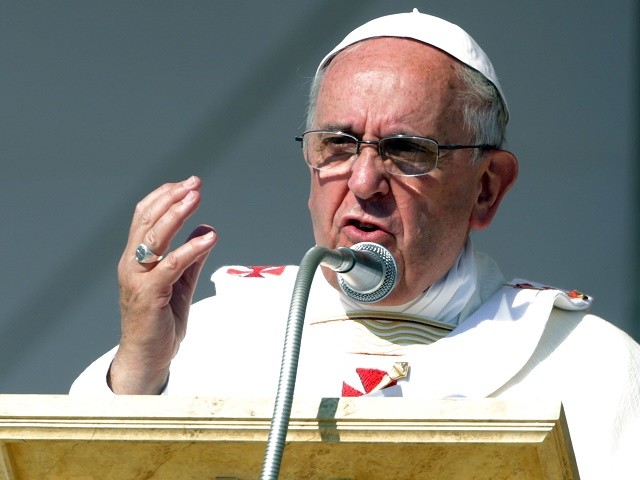 Some of the Latin American music industry's biggest names criticized the Vatican this week for its lukewarm stance on the humanitarian crisis in Venezuela, urging Pope Francis, himself South American, to support the majority of the country against dictator Nicolás Maduro's violent socialist regime.
Pope Francis has repeatedly issued statements expressing concern for Venezuelans generally. In January, while visiting Panama, a Vatican spokesman issued a statement on the inauguration of interim President Juan Guaidó with no indication of whether the Vatican, a sovereign state, would recognize Guaidó's legitimacy or continue conducting diplomacy through dictator Maduro.
"The Holy Father, hearing of the news from Venezuela in Panama, is closely following the evolution of the situation and prays for the victims and all Venezuelans," the statement read.
Speaking to reporters on a flight to Abu Dhabi this month, Pope Francis said he fears "bloodshed" and "wish[es] well for all the inhabitants of the country," but refused to say whether, as head of state of a sovereign country, he recognized Guaidó's position as interim president: "it would be a pastoral imprudence and would cause harm to be on the side of one country or another."
Maduro sent a letter to Pope Francis requesting that the Vatican mediate talks between the opposition and the socialist regime. The pope said he would only accept a mediating role if the opposition also requested it.
Pope Francis's refusal to condemn the socialist government for its rampant human rights abuses – including refusing to allow access to humanitarian aid for ill and starving Venezuelans, the imprisonment of political dissidents, and torture and killing of protesters – has triggered a wave of criticism from some of Latin America's most prominent musical talents. The Latin American music industry has largely united to send a message of solidarity to the Venezuelan people against socialism and Maduro in particular, signaling a rightward shift unimitated in the English-language entertainment industry.
On Monday, Ricardo Arjona – a Grammy Award-winning artist with 80 million records sold to his name – posted a commentary on social media accusing the Vatican of leading Catholics to "limbo" by not taking a principled stance on the situation in Venezuela.
"Limbo, according to Catholic theology, is the world between the living and the dead … it is an intermediary place immensely similar to nothingness and a VERY close relative of NEUTRALITY," he wrote.
"One can understand (although it smells bad) the limbo of some countries in relation to Venezuela due to circumstances that could have been the product of previous agreements, transactions, or symbolic cameraderie," he continued. "One can be neutral in the name of a country. But can one be neutral in the name of God?"
"So much of the foundation of its [the Catholic Church's] doctrine has to do with Poncius Pilate as indisputable symbol of treason and cowardice by washing his hands. Isn't being neutral before the imminent Venezuelan chaos the same thing?" he asked.
Arjona's comments followed the publication Sunday of an incendiary interview in one of Argentina's largest newspapers, Clarín, with Ricardo Montaner, arguably Venezuela's most prominent singer-songwriter (Montaner was born in Argentina but raised in Venezuela and considers himself largely Venezuelan). Montaner, currently on tour in Argentina, told the newspaper that he was "pained" by Pope Francis's refusal to take a categorical stance on the matter.
"I believe, and I say this with the utmost respect, that being the representative of the global Catholic community, his obligation is to be on the side of those who suffer, and those who are suffering are the ones screaming and shouting, today especially, for God to listen to them," Montaner said. "It hurts me, because he [Pope Francis] seems like a good guy and I like him, and the minimum that I would want is to think that he would identify with the pain of the people bleeding out in the streets."
Montaner also took the opportunity to criticize Anglophone celebrities like Roger Waters who have come out in support of the Maduro regime: "Why would you want to act like the cool guy supporting something that makes no sense, because supporting this [the Maduro regime] is to support genocide and support the rejection of human rights."
In a separate interview with the Argentine outlet Infobae, Montaner said of the Vatican, "I don't think you can be neutral in certain circumstances. God is the first one who is not neutral and if anybody knows anything about justice, it's Jesus."
"He does not tell us to be 'lukewarm' or 'neutral,' but 'you must follow this path.' It's too comfortable to be neutral in these circumstances," he concluded.
Another Latin American artist, the legendary Venezuelan crooner José Luis Rodríguez "El Puma," made similar comments about the Vatican this week, as well: "Bergoglio [Pope Francis] is still indifferent, still keeping that coldness that defines him towards those countries that want to free themselves of tyrannies."
Rodríguez went further than the other critics, speculating, "There is something weird there. One day they will review the Vatican's national bank and we are going to be very surprised."
This week's wave of criticism towards the Vatican followed the publication of a video by a variety of Latin American celebrities – including Montaner and several younger celebrities like reggaetón stars J Balvin and Luis Fonsi (of "Despacito" fame), and Colombian artist Juanes – published in support of the movement against Maduro in Venezuela. The video preceded a large protest in Venezuela last weekend demanding Maduro vacate the presidential palace after interim President Juan Guaidó took an oath of office to replace him, as the Venezuelan constitution demands.
Follow Frances Martel on Facebook and Twitter.
http://feedproxy.google.com/~r/breitbart/~3/8KW8fwAWLag/