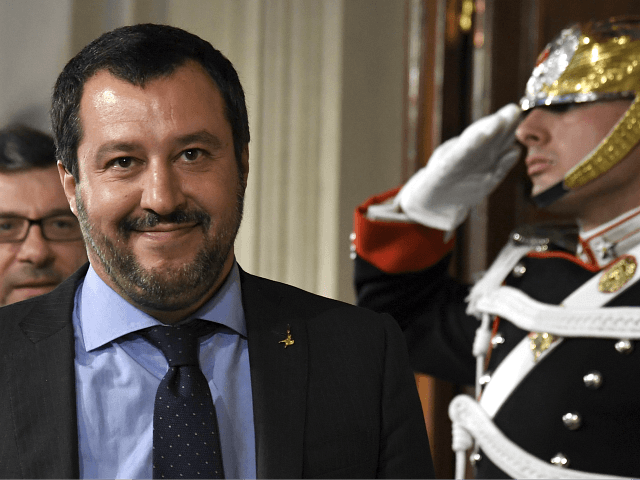 Italian interior minister Matteo Salvini tweeted out felicitations to President Donald Trump Wednesday, congratulating him for the results of U.S. midterm elections.
"Congratulations to President Trump for the seats taken in the Senate and confirmation in crucial states, against everything and everyone: lefty journalists, actors and singers, directors and pseudo-intellectuals. #godonaldgo," Salvini wrote.
Complimenti al presidente #Trump per i seggi conquistati al Senato e la conferma in Stati cruciali, contro tutto e contro tutti: giornalisti di sinistra, attori e cantanti, registi e pseudo-intellettuali… #godonaldgo@realDonaldTrump pic.twitter.com/5g0mad4Fzj

— Matteo Salvini (@matteosalvinimi) November 7, 2018
Not long afterward, Salvini had the chance to tweet congratulations to himself on an Italian senate victory for the passage Wednesday of his "Salvini decree" on security and immigration, three-part legislation addressing (1) asylum and citizenship, (2) security measures against organized crime, and (3) the administration of good confiscated from the mafia.
The populist Salvini called the triumph a "historic day" for Italy.
Decreto Sicurezza e Immigrazione, ore 12.19, il Senato approva!!!#DecretoSalvini, giornata storica! pic.twitter.com/7xXsVampPY

— Matteo Salvini (@matteosalvinimi) November 7, 2018
Early in the 2016 U.S. election campaign, Salvini met with Donald Trump in Pennsylvania, where they reportedly discussed the economy and Europe's migrant crisis.
During the rally in Wilkes-Barre, Salvini was holding a "Trump: Make America Great Again" poster and afterward had a 20-minute meeting with the Republican presidential front-runner.
As Salvini assured Trump of his support for victory November 8, Mr. Trump reciprocated the campaign well-wishes, declaring, "Matteo, I hope you become Prime Minister soon."
Salvini has since said he is a Trump supporter all the way. "His rigor, his strategy for economic recovery, his security policies, all make me root for Trump," he said.
Follow Thomas D. Williams on Twitter Follow @tdwilliamsrome
http://feedproxy.google.com/~r/breitbart/~3/2ynHn8C6tf4/