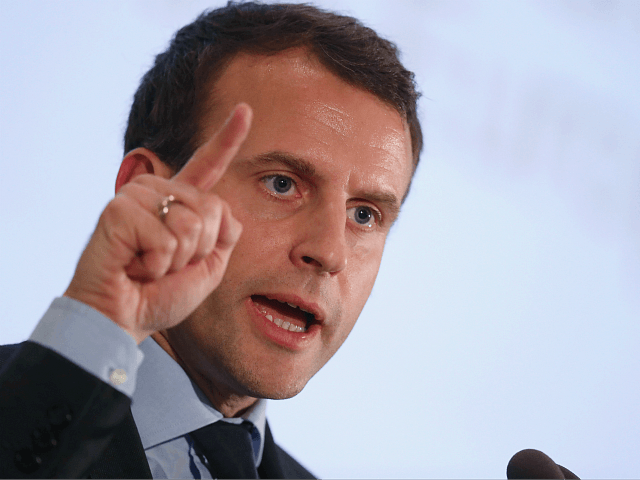 The globalist French President Emmanuel Macron has lectured Hungary, Poland, the Czech Republic, and Slovakia, telling them to fall into line with the European Union on migrant solidarity and "fundamental values".
President Macron launched his two-day tour of Slovakia and the Czech Republic Friday by giving interviews to press from all four Visegrád nations to remind them that the "European Union is not a supermarket" where members can reject aspects of policy that conflict with their home interests.
Speaking to Hungary's hvg.hu, President Macron told them that the EU "has a common destiny" where there can be no "East-West debate".
"I continue to maintain this. This expectation applies to everyone. First of all, to honour our fundamental values," Macron said, adding that those shared "humanist" values "confer personal freedom, shared responsibility and cultural diversity all at the same human level".
Notably, the French President singled out Hungary for censure saying that "The situation of the rule of law in Hungary is worrying," after the country introduced laws intended to halt the promotion and support of illegal migration, laws which impact the endeavours of pro-mass migration civil society groups.
On the Czech Republic, headed by populist open-borders-sceptic Andrej Babiš, he offered a veiled threat that "No state can afford to hinder those who want to move further and faster" after the country rejected the notion of a common Eurozone budget.
Macron Vows Punishment for States Refusing Third World Migration https://t.co/Xdld7ZPdLt

— Breitbart London (@BreitbartLondon) September 21, 2018
"I believe in Europe's open aspirations. And I am convinced that the Czech Republic wants to be in the heart of this progressive and protective Europe."
Speaking to Poland's Rzeczpospolita, he added that access to the bloc's budget could depend on whether a nation shows sufficient "solidarity" by accepting illegal migrants and asylum seekers from the Global South.
"You can not use the European budget without a solidarity approach, for example to migration," he said.
Claiming that the EU gives nations sovereignty rather than take it away, he added: "If we want to kill Europe, let's do it. Europe is not one-way: it is a mutual obligation that does not limits one's sovereignty, but actually increases it."
Macron also singled out Poland for criticism, after the European Court of Justice ordered the country last week to stop applications of the law lowering the retirement age of judges from 70 to 65, which Poland says makes the court more efficient and are part of wider judicial reforms to clear out remnants of its Communist past.
"I would like to believe that the Polish government will take the necessary steps to respond to the concerns of the Commission and its partners. If this is not the case, we will continue to protect the rule of law. But there is still time to make the necessary changes to respect our values and our common principles," Macron said Friday.
The Europhile has been at odds with the Visegrád group, mostly with Hungary and Poland, over adherence to the bloc's "fundamental values" and mass migration policies.
Hungary's Prime Minister Viktor Orbán and Italy's populist Interior Minister Matteo Salvini call out Macron as "the leader of pro-migration parties in Europe today" ahead of May 2019's European Parliament elections which has seen Macron begin a grand tour of the continent to promote the values of the European Project and drum up support for federalist, progressive candidates.
Macron responded by saying that France is "an enemy of nationalism" and "if they want to see me as their chief adversary, they are right."
Macron Declares War on Salvini-Orban Bloc, 'I Am Their Chief Adversary' https://t.co/jOzGMEBRRU

— Breitbart London (@BreitbartLondon) August 29, 2018
http://feedproxy.google.com/~r/breitbart/~3/7KzF75S0vTM/