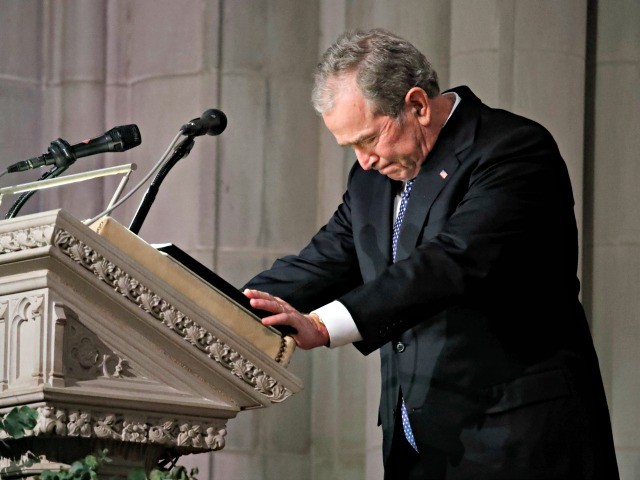 Former President George W. Bush eulogized his father, George W. Bush, on Wednesday, just eight months after losing his mother, Barbara Bush.
Bush opened the eulogy by thanking everyone in attendance and said, "I once heard it said of man that the idea is to die young as late as possible."
Bush then went on to list some of his father's life accomplishments. Bush said:
At age 85, a favorite pastime of George H.W. Bush was firing up his boat, the Fidelity, and opening up the three-300 horsepower engines to fly — joyfully fly — across the Atlantic, with Secret Service boats straining to keep up.

At 90, George H.W. Bush parachuted out of an aircraft and landed on the grounds of St. Ann's by the Sea in Kennebunkport, Maine — the church where his mom was married and where he'd worshipped often. Mother liked to say he chose the location just in case the chute didn't open.
In his 90s, he took great delight when his closest pal, James A. Baker, smuggled a bottle of Grey Goose vodka into his hospital room. Apparently, it paired well with the steak Baker had delivered from Morton's.</p
WATCH:

Bush also discussed his father's lasting impact on his family.
"To his very last days, Dad's life was instructive. As he aged, he taught us how to grow old with dignity, humor, and kindness — and, when the good Lord finally called, how to meet him with courage and with joy in the promise of what lies ahead."
Amid much sadness, Bush cracked a few jokes to lighten the mood.
"He loved to laugh, especially at himself. He could tease and needle, but never out of malice. He placed great value on a good joke. That's why he chose Simpson to speak," Bush said of his father.
In concluding the eulogy, Bush described his father as "a great and noble man" and the "best father a son or daughter could have."
"In our grief, let us smile knowing that Dad is hugging Robin and holding Mom's hand again."
Follow Kyle on Twitter @RealKyleMorris and Facebook.
http://feedproxy.google.com/~r/breitbart/~3/Bx4qBfMqVPA/