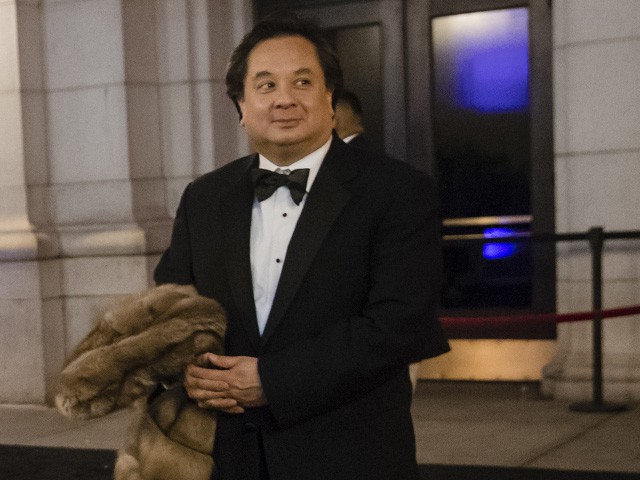 George Conway, husband of Counselor to the President Kellyanne Conway, said he would "move to Australia" before voting again for President Donald Trump.
Conway made his remarks in an interview with Yahoo News's Michael Isikoff on the Skullduggery – Scandals in the Trump Era podcast.
Conway said, "I don't feel comfortable being a Republican anymore. I think the Republican Party has become something of a personality cult… I don't know. I don't know. If faced with the choice again, I'd probably move to Australia."
Conway added, "My wife did an amazing thing. She basically got this guy elected. She steadied the boat. Other people like to take credit for it, but she got this guy elected, but she did it. She imposed message discipline on that campaign. He was in the crapper when she took that campaign over. He was all over the place."
Conway also described the Trump administration as "shit show in a dumpster fire."
"My view was, [Donald Trump] was the lesser evil [relative to Hillary Clinton]," added Conway, remarking that he no longer knows if Donald Trump or Hillary Clinton is "the lesser evil."
Conway recently launched Checks and Balances, an organization of lawyers aimed at encouraging right-leaning attorneys to "speak out" against Trump.
Checks and Balances describes itself on its website:
We are a group of attorneys who would traditionally be considered conservative or libertarian. We believe in the rule of law, the power of truth, the independence of the criminal justice system, the imperative of individual rights, and the necessity of civil discourse. We believe these principles apply regardless of the party or persons in power. We believe in "a government of laws, not of men."

We believe in the Constitution. We believe in free speech, a free press, separation of powers, and limited government. We have faith in the resiliency of the American experiment. We seek to provide a voice and a network for like-minded attorneys to discuss these ideas, and we hope that they will join with us to stand up for these principles.
Conway noted his organization's deliberate omission of any reference to the president in its mission statement: "We don't specifically mention [or] use the T-word in our mission statement. It's really not about any single individual. It's about the principles."
Follow Robert Kraychik on Twitter.
http://feedproxy.google.com/~r/breitbart/~3/XFecNgYGZVE/