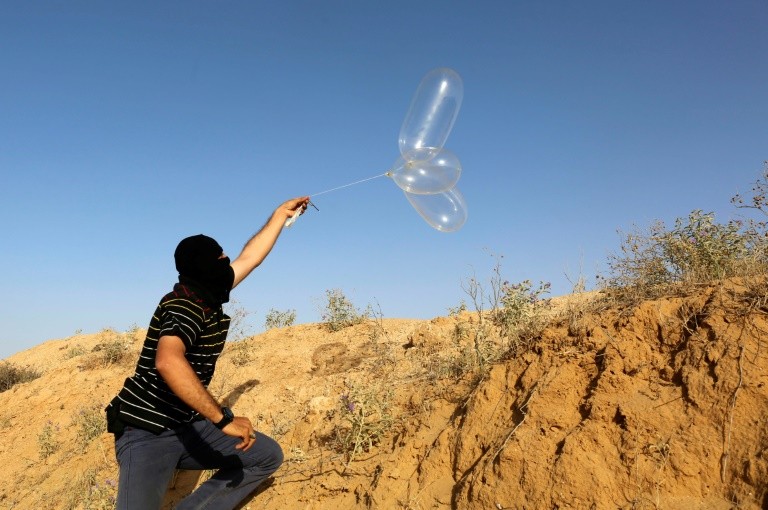 TEL AVIV – After kids' helium balloons, kites and condoms, next comes the first ever incendiary "blimp" launched at Israel from the Gaza Strip, a terror group in the coastal enclave boasted. 
A clip making the rounds on Palestinian media on Saturday showed members of the "Sons of Zouari" group launching the incendiary device over the border during Friday's riots. It shows an oversize balloon, approximately 16 feet in length, disguised as a blimp with the Arabic and Hebrew text reading, "If we are doomed to suffer, then we will not suffer alone."
At least ten fires were sparked in southern Israel on Friday, authorities said.
لأول مرة..وحدة "أبناء الزواري" يطلقون منطاداً حارقاً نحو مستوطنات الاحتلال من شرق مخيم البريج ، أمس . pic.twitter.com/2vmwkCRfx1

— المركز الفلسطيني للإعلام (@PalinfoAr) October 13, 2018
According to the Hamas-run health ministry, seven Palestinians were killed during Friday's clashes, which were some of the deadliest in recent months, with more than 14,000 Palestinians taking to the border area to riot. Four were killed from Israeli fire when rioters blasted a hole in the border fence with explosives and attempted to storm an army post.
Rioters burned tires and threw bombs, grenades, rocks, and Molotov cocktails at soldiers.
Some 150 Palestinians have been killed since the riots began in March, according to AP. Hamas has acknowledged that dozens of those killed were its members.
The incendiary devices flown over the border have sparked hundreds of fires in Israel's south, causing millions of shekels in damage and destroying thousands of acres of farmland.
Defense Minister Avigdor Liberman on Friday limited the transfer of fuel to Gaza.
"Israel will not tolerate a situation in which fuel is allowed into Gaza while terror and violence is used against IDF soldiers and citizens," a statement from his office said.
The order came days after the UN brokered a deal to transfer Qatari-funded fuel to the Strip. Israel arranged the transfer to the ire of the Palestinian Authority, which said that the move was tantamount to recognition of the Gaza-ruling terror group Hamas.
Four tankers of fuel were transferred to the Strip on Friday morning before the riots broke out. Israel has expressed the hope that the fuel deliveries will help calm tensions in the Strip, which is suffering from power cuts.
Speaking at a funeral of one of the dead, Hamas leader Ismail Haniyeh on Saturday vowed the terror group would keep up the protests until the blockade imposed by Israel and Egypt for security reasons is lifted.
http://feedproxy.google.com/~r/breitbart/~3/kPygqOQNil4/