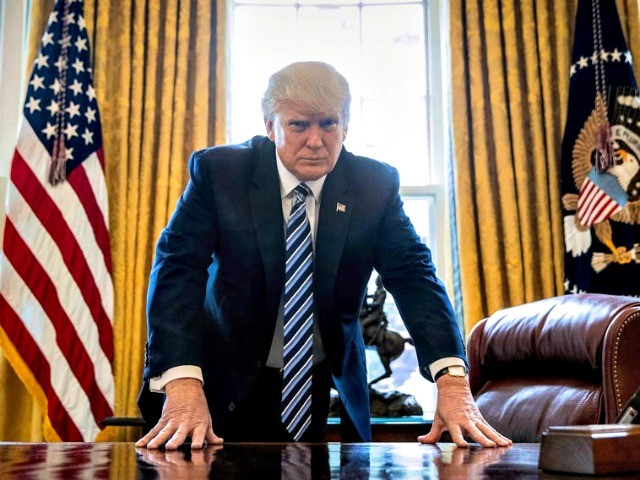 With President Donald J. Trump at the helm of the Republican Party, the GOP has risen to its highest approval rating in nearly a decade, a new Gallup survey found.
GOP favorability, at 45 percent, is higher than Democrats' 44 percent. Gallup says the surge in Republicans' support level–a nine percent rise among the public since last September–is the highest rating the party has had since when the GOP took the House majority it still maintains, in January 2011, after the 2010 midterm elections. Back then, in January 2011, Republicans had a 47 percent approval rating but have slipped below 45 percent ever since. That means the GOP, under Trump, has surged to its highest approval rating in seven years. Gallup's Jim Norman wrote:
The parity in Republicans' and Democrats' favorable ratings marks a change from what has generally been the case since Barack Obama's election as president in November 2008. Republicans have usually been rated less positively than Democrats over this time, with the Republican Party's favorability rating for the last decade averaging 39%, compared with the Democratic Party's 44%. Only one other time in the last decade has the Republican Party had a significantly higher score than the Democratic Party. That one exception came in November 2014, immediately after elections that saw Republicans capture control of the Senate and expand their majority in the House, when 42% rated the GOP favorably and 36% the Democrats.
A rise in intra-GOP approval is a big reason why the GOP has now surpassed Democrats in overall approval, just two months before the election, in the Gallup survey. Donald Trump, Jr., President Trump's eldest son, told Breitbart News that the reason for the rise inside the party is because Republicans finally have a leader they can count on.
"It's easy to see why GOP approval numbers are the highest in years," Donald Trump, Jr., told Breitbart News in response to the Gallup survey. "Republicans finally have a president who gets things done, delivers on promises, and fights back when met with inevitable resistance from obstructionist Democrats. They haven't had that in recent memory. Conservatives' principles are being enacted–and they're working, and people are taking notice."
The new polling statistics showing Republicans on the rise among the American people come a year and a half into President Trump's administration, as the establishment media bears down on the government in nearly every respect–and as Democrats aim to derail virtually anything they can from their minority perches in both the U.S. Senate and the U.S. House of Representatives. The latest iteration of this is the Senate Democrats' effort to stop the confirmation of Judge Brett Kavanaugh to the U.S. Supreme Court to replace retired Justice Anthony Kennedy, but Democrats on both sides of Capitol Hill have aggressively fought Trump's policies and nominees at every turn, from economic to security to social policies and everything in between.
The good news for the GOP also comes just weeks ahead of the all-important midterm elections, where political prognosticators and pundits have been convinced for months the Democrats will retake a majority in the House for the first time since the beginning of former President Barack Obama's first term in the White House–and that Democrats may even retake the Senate, despite a 2018 map very favorable to GOP chances to hold their Senate majority.
Despite the conventional wisdom pointing to a Democratic House takeover, some recent polling has indicated the Democrats are not hitting marks they need to in key battleground districts to take the majority. For instance, in Maine's second congressional district, Rep. Bruce Poliquin (R-ME) is ahead of Democrat Jared Golden by a comfortable five percent in a recent New York Times/Siena College poll. In California's 39th congressional district, Republican Young Kim leads Democrat Gil Cisneros–who Obama campaigned with recently despite the fact he has been credibly accused of sexual misconduct–by ten points in a recent Monmouth University survey. Democrats are having problems in many other districts, too, including Florida's 26th congressional district, where Rep. Carlos Curbelo (R-FL) is polling ahead of Democrat challenger Debbie Mucarsel-Powell.
For Democrats to take the House majority, their so-called "magic number"–the net number of pickups they need to win–is 24 net wins that they did not have before. For them to hit that number, they need to win districts like those–and they simply are not materializing yet in places like that, despite whatever national energy they may or may not have,
On the Senate side, Republicans face a much easier road to not just holding their slim 51-49 majority but adding seats to it. There are four GOP seats up for re-election this year considered competitive: Nevada, Arizona, Texas, and Tennessee. In Nevada, Sen. Dean Heller (R-NV) faces a tough battle against Rep. Jacky Rosen (D-NV) and polling has showed that race to be tight. In Arizona, Reps. Martha McSally (R-AZ) and Kirsten Synema (D-AZ) are competing for the seat of retiring Sen. Jeff Flake (R-AZ)–and polling, while scant, has generally shown McSally in the lead. In Texas, Sen. Ted Cruz (R-TX) faces Rep. Robert "Beto" O'Rourke (D-TX) in a bitter battle, but polling has Cruz mostly out in front. In Tennessee, Rep. Marsha Blackurn (R-TN) faces former Democrat Gov. Phil Bredesen for the seat of outgoing Sen. Bob Corker (R-TN) in a tight race, but Bredesen's radical leftism is expected to create an opening for Blackburn to emerge victorious in November.
If Republicans hold those four, they start at their baseline of 51 seats when they march into enemy territory to take seats from Democrats. Competitive races in North Dakota, Indiana, Florida, Missouri, Montana, West Virginia, and Ohio all offer serious pickup chances. If they take all of those and hold the four competitive GOP-held seats–a tall order but possible, since Trump defeated 2016 Democratic presidential nominee Hillary Rodham Clinton in each of those states–they would come into 2019 with 58 GOP senators. There are other states, like Virginia, New Jersey, Wisconsin, Michigan, and Pennsylvania, where GOP challengers to Democrat incumbents have a chance at winning as well.
While the Kavanaugh confirmation is just the latest bloody knock-down, drag-out fight Republicans are battling in Washington against the media, Democrats, and institutional left, it is hardly the only one. The GOP in the era of Trump has surfed from crisis to crisis, whether it be immigration-related policies at the border or spending bills in Washington or the failed effort last year to repeal and replace Obamacare, not to mention the looming and constantly creeping fights with the so-called "Deep State" over things like the Russia probe or Trump's nonstop skirmish with the nation's powerful and entrenched intelligence and law enforcement communities. Personality clashes inside the administration, including most notably the recent op-ed published by an anonymous official in the New York Times, have enflamed those rifts all while Democrats throw gasoline on the fire with media pressure, document requests, and threats that they will impeach Trump should they win their coveted majority in the House of Representatives.
The effect of all of this and more seems to be captured in the Gallup survey, in that the extreme antics of the left, the Democrats, and opponents of the president appear to have done the previously-thought-to-be-impossible: It looks like this environment has unified the GOP, which otherwise was deeply divided over several years of Republican civil war that claimed Speakerships of outgoing House Speaker Paul Ryan and his predecessor John Boehner, as well as the majority leader position from former Rep. Eric Cantor (R-VA) and countless more casualties. The civil war led to Trump's meteoric rise as he rode grassroots opposition to the establishment into the GOP nomination for president in 2016 against 16 other highly-qualified candidates and eventually into the White House against Clinton in the general election.
"The overall increase in the favorable image of the Republican Party is a result of a jump in the positive views of Republicans, including independents who lean toward the party," Gallup's Norman wrote. "The percentage of Republicans and leaners with favorable views of their party grew from 67% last September to 85% now."
http://feedproxy.google.com/~r/breitbart/~3/ZfXiyevfDQg/