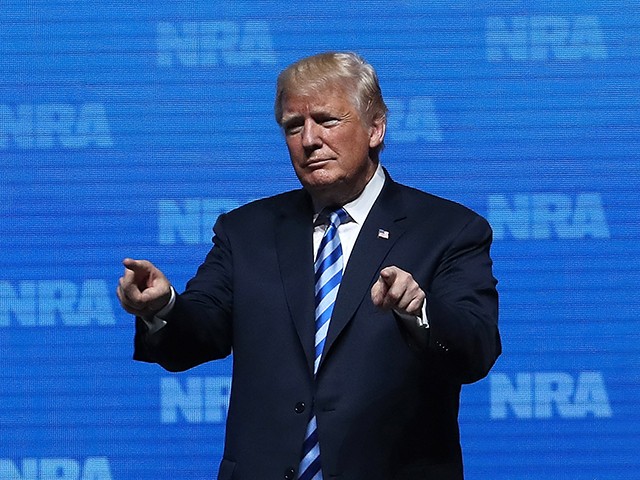 Republican satisfaction on how the nation is being governed has continued to grow as President Donald Trump's presidency unfolds. It has risen from only 10 percent when Barack Obama was still in office to 47 percent in 2017, and up another 25 points to 72 percent this past year, according to a Gallup poll.
"While it is unclear why Republicans' satisfaction increased gradually, it could be a result of Trump successfully enacting key parts of his agenda," Gallup said of its poll.
Gallup's reporting on the poll downplays Trump's popularity by leading with findings that show U.S. adults overall approval of how the nation is being governed is up 10 percent from last year but only stands at 38 percent satisfaction.
Gallup reported: 
This increase is exclusively attributable to further heightened positivity among Republicans and Republican-leaning independents, whose satisfaction rose from 47% last year to 72% now. At the same time, Democrats and Democratic-leaning independents' satisfaction is static at 10%.

Background: Americans' 38% level of satisfaction with the way the U.S. is being governed is on par with the 37% historical average since 2001. The September readings have been as low as 19% in 2011 after the U.S. credit rating was downgraded in response to a deal to raise the federal debt limit.
The poll results are predictably partisan but less Democrats and Democratic-leaning Independents were satisfied two months after Trump's election and when Obama was still president — 55 percent — and at 12 percent slightly more Republicans and Republican-leaning Independents were satisfied.
The percentage of Democrats satisfied with how the nation is being governed has stayed a static 10 percent each year of Trump's presidency.
Gallup reported that the 72 percent Republican satisfaction rating is the highest since 2005 when George W. Bush was president, but still falls short of the 82 percent all-time high in 2003 during Bush's first term.
"The Democrats' recent 10 percent readings are the historical low numerically, but similar to an 11 percent reading in Bush's last few months in office," Gallup reported. "Democrats' highest satisfaction with the nation's governance, 69 percent in 2009 after Obama took office and when Democrats controlled both houses of Congress, falls well below Republicans' highest satisfaction rating."
Gallup's latest findings are based on a Sept. 4-12 governance poll, which the pollster has published annually since 2001.
Follow Penny Starr on Twitter
http://feedproxy.google.com/~r/breitbart/~3/pmTl_gTiOUM/