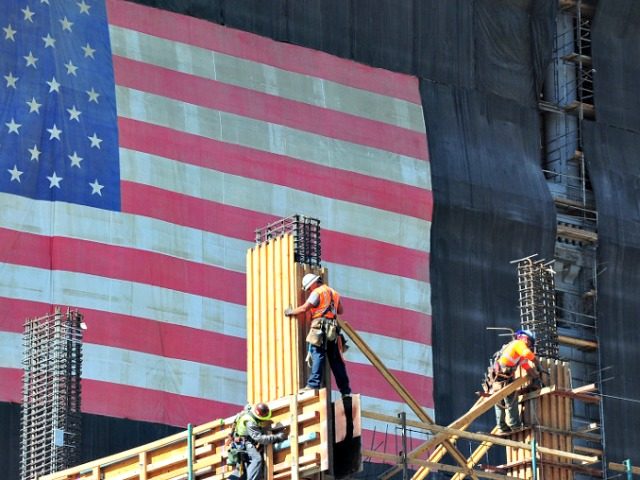 Results of a Gallup poll released on Monday show that a record-low number of respondents — 12 percent — believe the shape of the American economy is one of the most important problems facing the country.
That's five percentage points less than the same survey taken last month, which showed 17 percent felt that the U.S. economy was a top problem in America.
And the poll reveals more good news for Americans under a President Donald Trump administration.
Gallup reported on its poll:
The low number of mentions of economic issues as the nation's most important problem mirrors Americans' generally positive attitudes on other economic indicators. In the current September survey, 55% of Americans say the economy is getting better, among the highest proportions saying this since 2004. A near-record-high 64% say now is a good time to find a quality job; workers remain upbeat about their job security; and employee engagement is at record highs.
Gallup's poll also reveals the issues that have replaced the economy on the "top problems" list. At 29 percent, respondents to September's survey are just a few percentage points shy of the all-time high 33 percent who cite the federal government's dysfunction in funding and keeping it open for business.
The current top five "most important problem" categories in this latest poll include immigration (12 percent), race issues (nine percent), the need to unify the country (seven percent), healthcare (five percent), lack of respect for one another (four percent) and poverty/hunger/homelessness (four percent), Gallup reported.
In a politically-divided country, both Republicans and Democrats seem to agree that the government is a top problem — 38% of Democrats and 28% of Republicans put it at the top of both partisan groups' lists.
The divide comes when each party points fingers at whom to blame for the government issue  — Republicans blame Democrats while Democrats blame President Donald Trump — the man whose policies have put the U.S. economy on a winning track, including record-low unemployment for millions of Americans.
In its analysis of its poll, Gallup makes a prediction about November's mid-term elections:
With the midterm elections approaching, Democrats' low levels of satisfaction with the way things are going, and their dissatisfaction with the way the nation is being governed, certainly stand as motivating factors for them to turn out and attempt to change representation in Congress. Republicans' high levels of satisfaction with the way things are going, however, may in turn motivate them to vote in order to keep the status quo in place.
Gallup conducted the survey on Sept. 4-12 and included the fact the "Gallup has been asking the classic 'most important problem' question since 1939 but did not begin giving a net score for all references to economic issues — including the economy in general, unemployment and inflation — until 1991."
Follow Penny Starr on Twitter
http://feedproxy.google.com/~r/breitbart/~3/sTZ8u73GOqU/