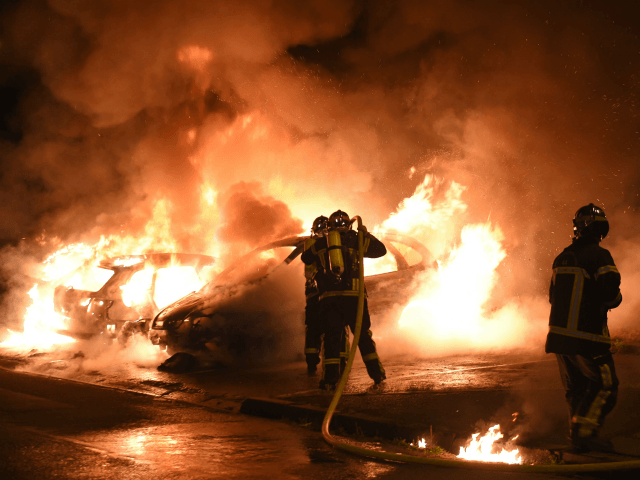 French police officers in Essone were attacked by several masked youths and were sprayed with acid on Haloween, as gangs wreaked havoc across France following a call to riot posted on social media.
The acid attack occurred after the policemen attempted to foil a robbery of a local grocer by a group of three masked youths who were attempting to steal fireworks and other items, Le Parisien reports.
The officers managed to arrest two of the masked individuals at the scene but the third managed to escape and was pursued by the officers. When the pair caught up with the 13-year-old they were sprayed with acid and though briefly intoxicated by the fumes of the substance, did not report any serious injuries and managed to arrest the youth.
The incident followed the call for rioting and a "purge" of law enforcement sent out on social media earlier this week that led to the arrest of a 19-year-old.
French Authorities Investigate Calls for Halloween 'Purge' of Police Officers https://t.co/ELF5LsAPCq

— Breitbart London (@BreitbartLondon) October 31, 2018
Around 20 masked individuals looted a sports shop in the department, physically attacking employees and police were attacked by another group when they tried to stop the group setting a car on fire in Étampes.
Yet another group of 40 or so armed with iron bars vandalised property in Saint-Michel-sur-Orge while in Evry ten people entered a bar, one armed with a sawn-off shotgun and injured two employees.
In Paris, a man was robbed of a 6,500 euro Rolex watch by two individuals wearing pig masks and two other women were robbed of their purses by a group of three masked individuals who were later arrested by police.
Car burnings were also common across the country with a dozen cars burned  in Mulhouse, eight burned in Joué-les-Tours, another dozen set on fire in Val-de-Marne, seventy garbage and car fires in Isère, five cars burned in Poitiers, eleven in both Finistère and Toulouse, and another dozen in the migrant-heavy Paris suburbs of Seine-Saint-Denis.
In total, 116 youths were arrested across France and though he condemned the violence, Interior Minister Christophe Castaner played down the scope of the chaos saying it was not as bad as previous years.
Several incidents were caught on film and posted on social media including one individual appears to be attempting to cut down a lamppost on a street.
ça coupe des lampadaires à la tronçonneuse j'ai jamais vu ça #Purge2018 pic.twitter.com/Y7Oh9xV1kV

— Saf (@boufaliniio) October 31, 2018
La situation dérape de nouveau rue de la république à #Lyon. Les #émeutiers sont nombreux. #Halloween #Purge pic.twitter.com/XYfqoaHvCB

— Julien Damboise (@JDANDOU) October 31, 2018
🔴 Alerte – Premières images de la « purge » d'Halloween : une bande de racailles dégrade un arrêt et attaque un tram à Borny (Metz) pic.twitter.com/kktcrQRS4y

— Damien Rieu (@DamienRieu) October 31, 2018
N'importe quoi #Purge #HALLOWEEN pic.twitter.com/8hTMegjQEO

— Jeyah (@JeyahOff) October 31, 2018
Follow Chris Tomlinson on Twitter at @TomlinsonCJ or email at ctomlinson(at)breitbart.com
http://feedproxy.google.com/~r/breitbart/~3/one3gQLmVDo/