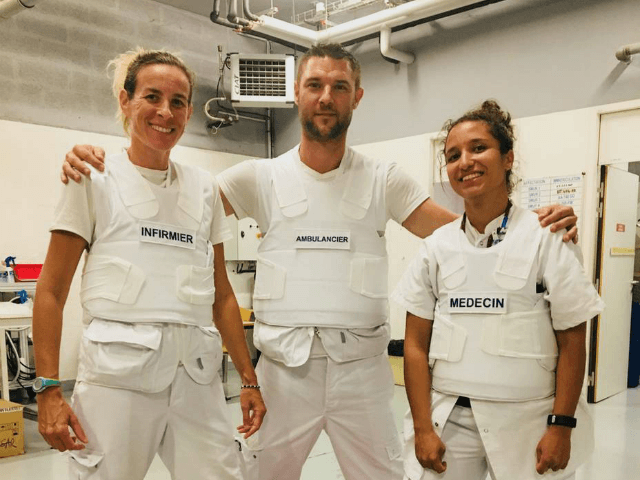 French emergency medical staff in Toulon are now putting on bulletproof vests to protect themselves after a rise in violence has seen multiple homicides and attempted murders in the city.
The decision to allow paramedics, doctors, and nurses to wear bulletproof vests comes after years of deliberation on how to protect hospital staff from mentally unstable patients and armed attackers on the streets, Le Parisien reports.
In a press release, Service d'Aide Médicale Urgente (SAMU) 83 listed several scenarios including terrorist attacks, armed gang reprisals, and the handling of violent mentally disturbed patients saying: "These are different types of interventions for which our teams were far from being properly protected from."
One set of vests will be given to the Mobile Emergency and Resuscitation Service (SMUR) unit which includes at least one doctor, a paramedic, and a nurse on board.
Laurent Bécé, director of SAMU 83, commented on the new vests saying: "The SMUR is not intended to be present in the corridors of extraction during an attack, but they intervene near these areas. We also intervene very regularly in very sensitive situations, that have not yet been stabilised, such as shootings or aggressions with knives."
Watch: After High Profile Violence Against First Responders, Firefighters Call for Attacks to Stop https://t.co/LqDz33KHEZ

— Breitbart London (@BreitbartLondon) March 23, 2018
The safety of emergency services personnel in France has deteriorated so greatly in some areas like the Alpes-Maritimes department, that firefighters made a series of videos earlier this year to encourage the public not to attack them.
The videos showed several scenarios including far-left extremists throwing firebombs at emergency workers and a domestic abuser charging firefighters with a knife.
Far-left extremists have targeted police on several occasions and even attempted to set officers on fire during May Day protests in 2017.
France is not the only country considering bulletproof vests for medical workers. In 2017, the head of the Swedish Ambulance Driver's Union Gordon Grattidge requested that paramedics and ambulance drivers receive military-grade defensive equipment in order to operate safely in the country's troubled "no-go" areas.
Follow Chris Tomlinson on Twitter at @TomlinsonCJ or email at ctomlinson(at)breitbart.com
http://feedproxy.google.com/~r/breitbart/~3/R5mkajOsfRc/