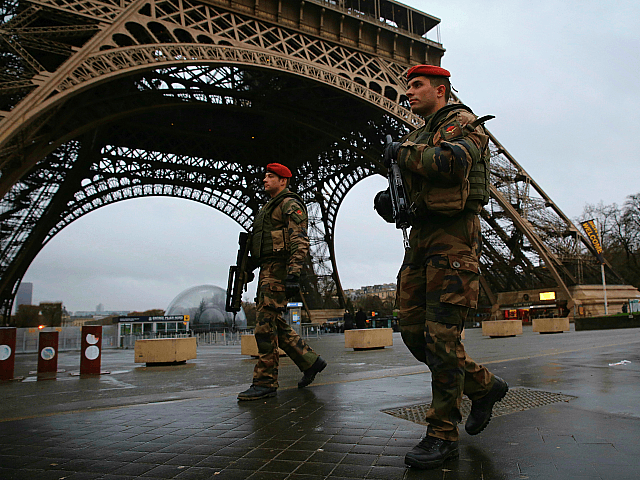 With terrorism and related violence on the rise in France, a parliamentary commission is considering a mandate that officers in all municipalities carry guns.
Quartz reports that police in France are "overwhelmed" and that French interior minister Gérard Collomb is seeking a way to alleviate some of the officers' burden. To that end, Collomb "launched a parliamentary commission to find ways to support security forces and municipal police."
The commission put together over 70 recommendations to aid police, one of which is arming all "municipal police" who answer to the mayors in their specific locality and who are charged with preserving public safety.
The recommendation to arm all officers runs counter to current French law which directs municipal police to eschew the carrying of firearms save in situations where the mayor of a particular locality requests it.
It should be noted that the recommendation to arm all officers did not emerge from a vacuum. On January 19, 2015, 12 days after the Charlie Hebdo attackers gunned down unarmed French police, the Associated Press reported French police unions were urging Interior Ministry officials to provide "more" guns and "heavier" guns, as well as "protective gear, better training for first-responders, and more legal tools to guard against terrorists."
France has now "identified 78 attempted terror attacks between October 2013 and March 2018 on home soil," so the left cannot as easily dismiss Charlie Hebdo and similar attacks as isolated incidents. The parliamentary commission's recommendation is a response to clear and present danger.
AWR Hawkins is an award-winning Second Amendment columnist for Breitbart News, the host of the Breitbart podcast Bullets with AWR Hawkins, and the writer/curator of Down Range with AWR Hawkins, a weekly newsletter focused on all things Second Amendment, also for Breitbart News. He is the political analyst for Armed American Radio. Follow him on Twitter: @AWRHawkins. Reach him directly at awrhawkins@breitbart.com. Sign up to get Down Range at breitbart.com/downrange.