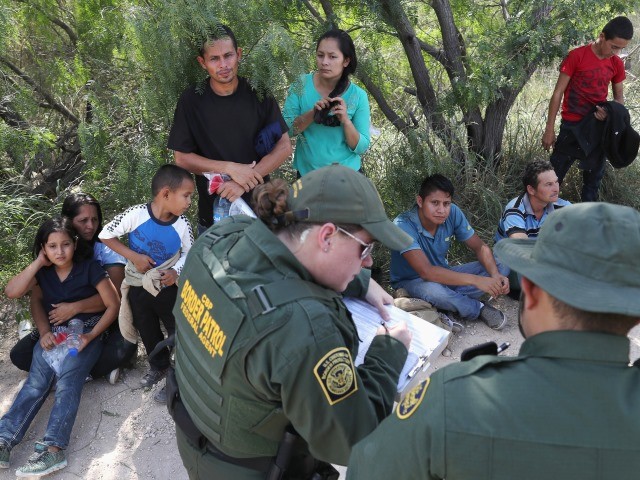 Border Patrol agents assigned to the Rio Grande Valley Sector apprehended violent criminals and gang members traveling with Central American migrants. Some of those include members of the most violent gangs in the U.S. and sexual predators against children.
McAllen Station agents patrolling near Sullivan City, Texas, arrested a group of nine migrants who crossed the border on October 29. While processing the group, a background investigation revealed that a Lebanon, Kentucky, court convicted one of the men on a charge of sexual abuse of a child under the age of 12. The court sentenced the Guatemalan national to five years in prison, according to Rio Grande Valley Sector officials.
Two days earlier, McAllen Station agents working the border near Abram, Texas, arrested a Mexican man with a criminal history. Court records indicate Arizona Department of Public Safety troopers arrested the man for Sexual Abuse of a Minor, officials stated. A court subsequently convicted the man and sentenced him to two years and six months behind bars.
On October 26, Fort Brown Station agents arrested another Mexican national who had previously been charged in Washington State for the rape of a child. Prosecutors allowed a plea to a lesser charge of communicating with a minor for immoral purposes. The Washington court sentenced the Mexican man to 365 days in jail.
Two days earlier, Weslaco Station agents arrested a Mexican national who illegally crossed the border near Pharr, Texas. A records check on the Mexican national revealed the man has two active warrants out of South Texas. Officials said the man is wanted by the Edinburg Police on charges of sexual assault.
Rio Grande Valley Sector agents also arrested gang members traveling with the migrants who are illegally crossing the border.
On Monday, Rio Grande City Station agents apprehended a group of migrants who illegally crossed the border near La Grulla, Texas. During an immigration interview, one if the men, a Salvadoran national, admitted to being a member of MS-13.
On October 24, McAllen Station agents apprehended a group of 34 migrants who crossed the border illegally. The group comprised of family units and unaccompanied minors, Border Patrol officials stated. During processing and immigration interviews, agents learned that one of the women who was traveling with her one-year-old son, is actually a member of the 18th Street Gang, officials stated.
Bob Price serves as associate editor and senior political news contributor for Breitbart Border/Cartel Chronicles. He is a founding member of the Breitbart Texas team. Follow him on Twitter @BobPriceBBTX and Facebook.
http://feedproxy.google.com/~r/breitbart/~3/WYlnoFLnOD8/