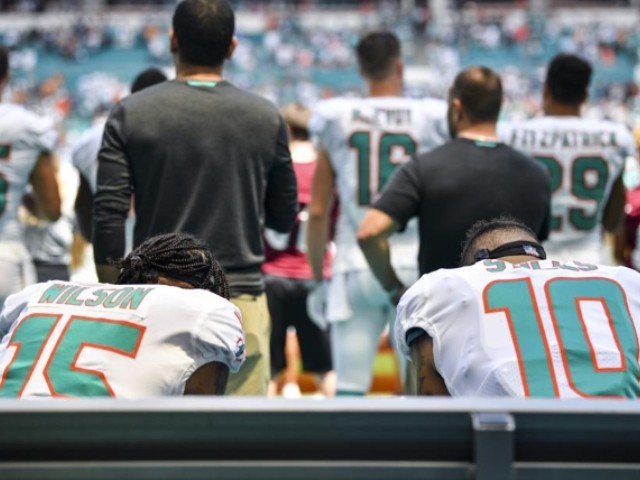 Four players protested during the early NFL kickoffs, showing that the NFL protests are remaining constant with the same players protesting each week thus far this season.
Week four opened with the same four players who protested last week. As Sunday's 13-game schedule started, Philadelphia Eagles defensive end Michael Bennett stayed in the locker room rather than take the field during the anthem. His teammates and opponents, the Tennessee Titans, all stood for the song, according to Sports Illustrated.
The other three players who protested were Miami Dolphins players Kenny Stills and Albert Watson, who took a knee during the anthem. Meanwhile, the Dolphins' Robert Quinn once again raised a fist during the nation's theme song.
The rest of the Dolphins and their opponents, the New England Patriots, all stood for the song.
All the players for the other teams in the early games also stood for the "Star Spangled Banner," including the Jets, Jaguars, Texans, Colts, Bills, Packers, Lions, Cowboys, Buccaneers, Bears, Bengals, and Falcons.
Last week a total of six players protested during the anthem, including the Los Angeles Chargers' Russell Okung (who raised a fist), Seattle Seahawks players Duane Brown and Quinton Jefferson (both of whom stayed in the locker room), and the three Dolphins players who have protested all year, Kenny Stills, Albert Wilson, and Robert Quinn.
All eyes are now turning to the Carolina Panthers who recently signed well-known anthem protester Eric Reid who turned free agent at the end of the 2017 season but has remained unsigned until now. Reid was one of the first NFl players to take up Colin Kaepernick's protests. Reid since filed a grievance against the NFL for keeping him off the field until his recent signing.
Follow Warner Todd Huston on Twitter @warnerthuston.
http://feedproxy.google.com/~r/breitbart/~3/FwdnC5uWlKE/