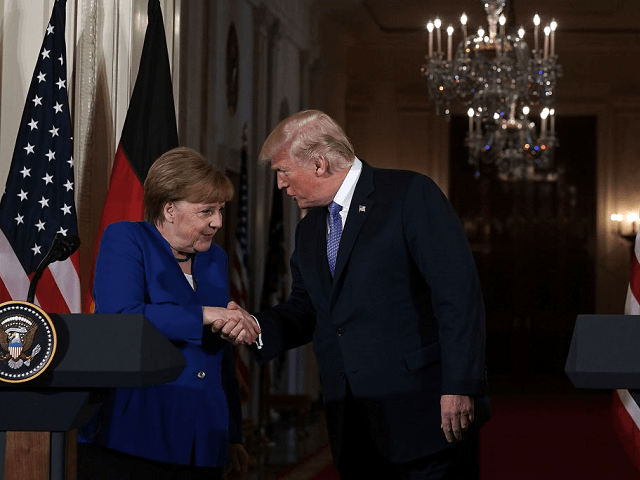 A group of German lawmakers have accused Angela Merkel of working to place Germany under Russian influence as she pushes on with a gas pipeline that would see Western Europe directly connected to Russia for energy — just months after U.S. President Donald Trump warned against the potential consequences of the project.
Nearly 100 members of the German parliament and members of the European Parliament have co-signed a letter to Chancellor Merkel calling on her to reconsider the controversial Nord Stream natural gas pipeline.
Trump Blasts Hypocritical Germany as 'Captive of Russians' at NATO summit https://t.co/tXeNwg8LMO

— Breitbart London (@BreitbartLondon) July 11, 2018
The massive infrastructure project will be, at nearly 800 miles, the world's longest undersea pipeline and will connect Germany directly to Russian gas supplies, negating the need for gas to transit first through Eastern European nations which can charge fees on energy passing through their territory. Over 100 miles of pipe has been laid so far.
The abundance of cheap gas could leave Germany dependent on the Moscow-controlled energy source in the future, it is claimed, and doing so would leave Germany both at the mercy of Russia and at odds with its European neighbours and allies who have opposed the project.
The lawmakers said in their letter to the Chancellor: "Your government, Madam Chancellor, is allowing a major rift between EU member-states to fester at a time when the EU needs cohesion more than ever before… Europe cannot afford this. Nor can Germany," reports The Times.
Trump: NATO Discussed Pipeline from Russia to Germany 'at Length' https://t.co/Vrk9qxsNr5

— Breitbart London (@BreitbartLondon) July 12, 2018
Seemingly referring to the recent chemical weapons attack in the United Kingdom by Russian agents which killed one and seriously injured others, the letter continued: "Just recently, the bitter British experience with Russian meddling has demonstrated amply how important it is for affected parties to be able to rely on their partners' solidarity."
The letter, ironically, even compared Merkel's pushing of the project to U.S. President Donald Trump, who has been one of the most prominent critics of Germany becoming dependent on Russian energy, calling it a "Germany first" policy.
The newspaper reports the difficulties the project has already brought Merkel, who is replacing German nuclear power with gas-powered stations which require the imported fuel, and for the "murky links" it has exposed between Russian and German business.
Trump Promises European Leaders U.S. Gas Deal 'Will Bring Prosperity to All Our Citizens' https://t.co/HTt4yFlX6u

— Breitbart London (@BreitbartLondon) July 6, 2017
Breitbart London reported in July during the Brussels NATO summit, when President Trump kicked off proceedings by warning Merkel against making Germany dependent on Russian energy imports — which as recent history has shown in Ukraine can be turned off at will for political reasons by Moscow — warning the plan made Germany a "captive to Russia."
President Trump also pointed to the questionable behaviour of former German Chancellor Gerhard Schröder, who signed off on the Nord Stream project during his time as leader. Mr Schröder is now the highly-paid boss of a Russian energy company delivering the Nord Stream project.
The U.S. President said in July in the context of the NATO summit, where he said Germany was failing to pull its own weight within the military alliance: "The former Chancellor of Germany is the head of the pipeline company that's supplying the gas… Germany is totally controlled by Russia — they will be getting 60-70 percent of their energy and a new pipeline.
"…I think it's not [appropriate] and it's a very bad thing for NATO… I think we have to talk to Germany about that… We're paying a lot of money to protect, this has been going on for decades… it's very unfair to our country, it's very unfair to our taxpayers… these countries need to step it up, not over a ten year period, but immediately."
Merkel said in July of Nord Stream: "I am very happy that today we are united in freedom, the Federal Republic of Germany. Because of that we can say that we can make our independent policies and make independent decisions. That is very good, especially for people in eastern Germany."
Oliver JJ Lane is the editor of Breitbart London — Follow him on Twitter and Facebook
http://feedproxy.google.com/~r/breitbart/~3/0thULJkZ8Yk/