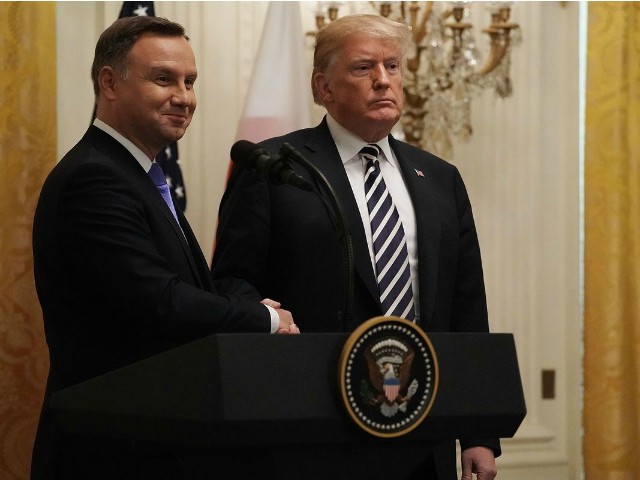 Polish President Andrzej Duda proposed in Tuesday's joint White House press conference that the U.S. build a permanent military base in his country that they would call "Fort Trump."
"I was smiling when talking to Mr. President. I said that I would very much like for us to set up permanent American bases in Poland, which we would call 'Fort Trump,'" President Duda said, as interpreted, in the joint press conference with President Donald Trump. "I firmly believe that this is possible. I am convinced that such a decision lies both in the Polish interest as well as in the interest of the United States."
President Trump's eyebrows rose and a grin spread across his face in response to the "Fort Trump" name suggestion from Duda.
Duda said Poland wants to implement more projects, buy more equipment, and "cooperate in the area of research and development as regards to military technology." He was convinced that this U.S.-Poland cooperation would go smoothly. "I hope that Mr. President will make a decision to deploy to Poland more U.S. units, together with equipment," he said.
The Polish president told reporters he had assured President Trump that if a permanent U.S. military base is constructed in Poland, it will not increase Russian military aggression beyond what Russia has already been increasing. He cited Russian actions in Georgia in 2008. "In 2008, when the then-President of Poland, Professor Lech Kaczyński, took other European leaders and they went to Tbilisi to stop Russian tanks, which were about to attack the capital of Georgia," said Duda. "And from that moment, that [Russian] military expansion has been developing." He also cited Russia's actions in Ukraine, stating, "And today we can see an illegal annexation of Crimea."
"Today, we are witnessing constant violation of international law in the Luhansk and Donetsk oblasts," said Duda, who resolved, "The presence of the United States is only providing a guarantee of security and a possibility to defend."
"It is only about the guarantee of security and defense of our part of Europe that is the free world," Duda emphasized. He called it "the most crucial issue right now from our perspective, from the perspective of Central and Eastern European countries."
"Today, we are seeing aggressive behaviors, and I am convinced that there is no more effective method of preventing a war than a decisive stance demonstrating that we are ready any moment to repel a possible attack," said President Duda.
"Poland is an attractive country, an attractive country," Duda said earlier in his press conference comments. He called it a "very important strategic location in Europe." He was convinced that a U.S. military base in Poland benefits not only Poland, but also the United States. "For the interest of the United States, also pertaining to the security of the United States itself, the presence of the U.S. Armed Forces in our country is important also to protect American interests."
President Trump added to President Duda's comments, pointing out that Duda had said Poland would pay the United States, "meaning Poland would be paying billions of dollars for a base." He made a differentiation between defending countries "that can't defend themselves," which he does not expect anything for, and defending "immensely wealthy countries." Trump said the U.S. is in talks to get those wealthy countries to contribute to the cost of aiding their defense. 
Presidents Trump and Duda signed a joint statement during their meetings Tuesday at the White House. It acknowledged Poland is "implementing a longterm plan to modernize its Armed Forces and is steadily increasing its defense spending up to 2.5 percent of its GDP" as an example to other allies. The statement added, "We further value the U.S. deployment of the Aegis Ashore base in Poland as a cornerstone of the missile defense infrastructure in Europe and its important role in NATO's security architecture."
Michelle Moons is a White House Correspondent for Breitbart News — follow on Twitter @MichelleDiana and Facebook.
http://feedproxy.google.com/~r/breitbart/~3/HxZyToeY8Ss/