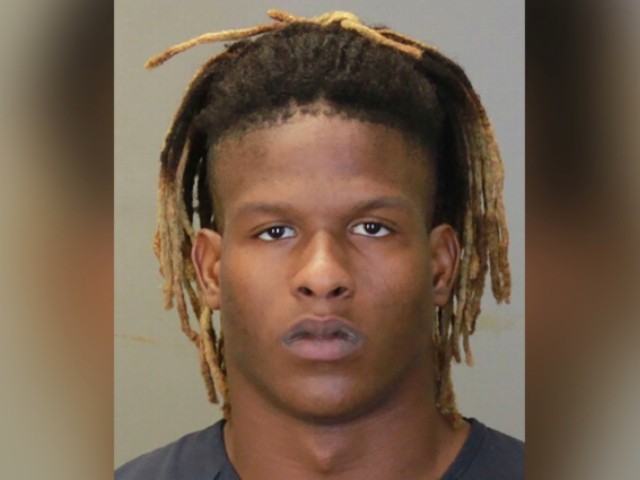 Justin Crawford, a former Georgia high school and college football star and NFL flameout, has been arrested and accused of having sexual contact with a 12-year-old girl, police say.
The 23-year-old former player was arrested on October 13, after an investigation found that he had engaged in sexual contact with the girl who was sleeping in the man's Columbus, Georgia, home.
According to the Columbus Ledger-Enquirer, Crawford has been charged with "aggravated child molestation, sodomy and enticing a child for indecent purposes" and is being held without bond at the Muscogee County Jail.
Police say that at 5 AM Crawford's wife saw her husband sporting an erection and standing near the girl who was sleeping on a couch in the couple's living room. The woman went back to sleep but told police that what she saw continued to bother her, according to Detective Mark Scruggs.
However, after the police report was made public, the ex-player's wife disputed the report. She did not see her husband with an erection, she said, and had no hint that there was any sexual encounter.
"I did not see anyone having sex, or I would have called police right away," Crawford's wife insisted in retrospect.
Still, police say that the girl admitted that she had sexual relations with the ex-player, a charge that Crawford fully denied in early interviews with police. Despite the denials, police say the player later allegedly admitted that he initiated the sexual contact with the child.
Crawford was a high school football star for Columbus, Georgia's Hardaway High School before going on to win high marks as a player at Northwest Mississippi Community College for two seasons and West Virginia University for two more. He rushed for 2,244 yards and 11 touchdowns at Virginia.
Crawford earned a spot on the Atlanta Falcons as an undrafted free agent on May 1 but quickly flamed out of the NFL and was cut by September.
Follow Warner Todd Huston on Twitter @warnerthuston.
http://feedproxy.google.com/~r/breitbart/~3/6tA506S-t2Y/