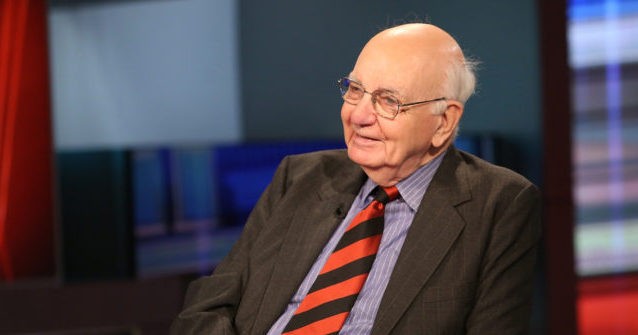 The world's greatest inflation fighter has died.
Former Federal Reserve Chairman Paul Volcker died Sunday at age 92. When he took the top job at the U.S. central bank in 1979, consumer prices were rising 13 percent. They rose by the same amount the following year.
Interest rates soared as Volcker sought to tame inflation by tightening the money supply. The federal funds rate rose as high as 22 percent in 1981, plunging the economy into a year-long recession.
President Ronald Reagan was critical of Volcker and the Fed. Many of Reagan's advisers believed that Volcker was endangering their economic agenda of tax cuts and regulatory reform by keeping monetary policy too tight. Reagan nonetheless reappointed Volcker, who had been appointed by Jimmy Carter, as Fed chair in 1984. He served in that role until 1987.
When Volcker left the Fed, inflation had come down to 1.86 percent.
Volcker returned to public life after the financial crisis when President Barack Obama made him an economic adviser. He was the inspiration for the Volcker rule, a regulation which limits commercial banks from trading risky securities.
–The Associated Press contributed to this report.
http://feedproxy.google.com/~r/breitbart/~3/acRrWfcx49o/