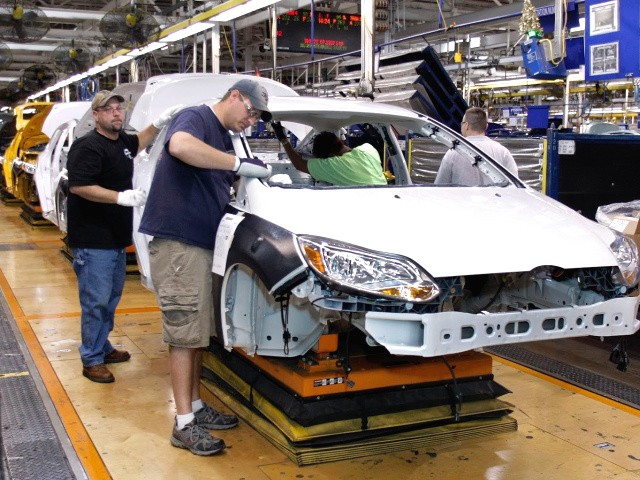 Ford Motor Company is planning to add about 500 additional American jobs to its manufacturing plants in the Chicago metro area, executives have announced.
The multinational automaker is expected to invest about $1 billion in its Chicago, Illinois, manufacturing plants, a move that will result in 500 additional jobs at its facilities, CNBC notes:
The move will add 500 jobs at Ford's Chicago-area Assembly and Stamping plants, bringing the total number of employees at the two factories to 5,800, the company said Thursday. Ford is building a new body shop and paint shop at the assembly plants and plans to make major changes to the final assembly area. The company also plans to install some new manufacturing technology, including 3D-printing tools and robots. [Emphasis added]
The United Auto Workers (UAW) union praised the announcement by Ford, calling it a "testament to the quality and hard work" of Ford's union workers.
"Every day UAW Ford members head to work, proud of the products they build and the craftsmanship required in vehicles like the Explorer, Aviator and Police Interceptor," Vice President of the UAW Ford Department Rory Gamble said in a statement.
"Ford's investment announcement demonstrates a commitment to the dedication of UAW members in Chicago," Gamble said.
While Ford increases American production for its Ford Explorer and Lincoln Aviator, General Motors (GM) has been laying off thousands of American workers in an effort to shift production to Mexico and China, where the multinational corporation will manufacture electric vehicles.
This year, GM is stopping production at four American plants, including Detroit-Hamtramck and Warren Transmission in Michigan, Lordstown Assembly in Ohio, and Baltimore Operations in Maryland. This is resulting in the layoff of at least 14,700 GM workers and 4,000 American white-collar workers with the company.
American manufacturing is vital to the U.S. economy, as every one manufacturing job supports an additional 7.4 American jobs in other industries. Decades of free trade, with deals like the North American Free Trade Agreement (NAFTA), have devastated American manufacturing and U.S. workers' job prospects, as well as suppressed their wages.
John Binder is a reporter for Breitbart News. Follow him on Twitter at @JxhnBinder. 
http://feedproxy.google.com/~r/breitbart/~3/1msqZprXUPA/