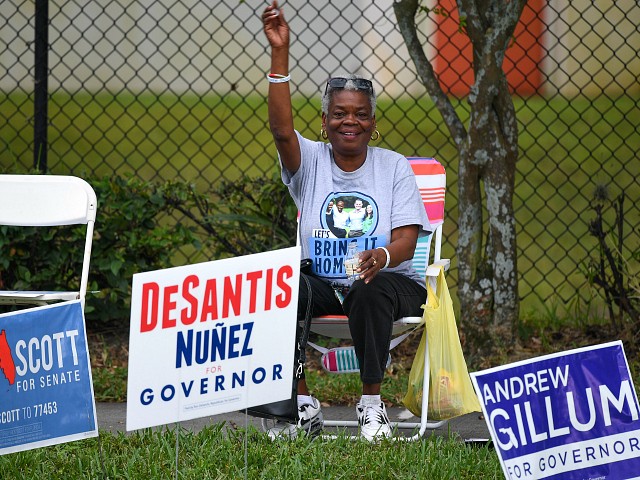 The projected election night victories of the Republican candidates for the U.S. Senate and Governor in Florida are headed to recounts, and it looks to be a protracted, nasty battle that will once again center on vote count problems in the heavily Democratic Broward County.
The recount of the Florida results in the 2000 presidential election was dominated by voting irregularities and "hanging chads" in Broward County. The Florida recount ended after a Supreme Court ruling. Subsequent to that ruling, the Republican candidate, George W. Bush was declared the victor in Florida and awarded the state's electoral college votes, which meant that he, and not the Democrat candidate, Al Gore, became the 43rd President of the United States.
As the vote count stands as of Thursday at 7:30 p.m. eastern, Florida Gov. Rick Scott leads Sen. Bill Nelson (D-FL) in the race for the U.S. Senate by a margin of 0.19 percent, 50.1 percent to 49.9 percent. Scott has 4,094,577 votes to Nelson's 4,079,501 votes out of 8,174,074 votes cast with 100 percent of precincts reporting, giving Scott a lead of 15,076 votes, according to Politico's vote count.
In the gubernatorial race, Rep. Ron DeSantis (R-FL) leads Democratic nominee Andrew Gillum by a margin of 0.42 percent, 49.6 percent to 49.2 percent. DeSantis has 4,072,579 votes to Gillum's 4,036,349 votes out of 8,209,311 votes cast with 100 percent of precincts reporting, giving DeSantis a lead of 36,230 votes, according to Politico's vote count.
Late Thursday, Breitbart News reported that race is also headed to a recount.
An automatic recount is required by law when the differential between two candidates is less than one half of one percent.
A manual recount is required by law when that differential is less than one-quarter of one percent (0.25 percent).
The Miami Herald reported on the latest developments Thursday afternoon:
Nelson's campaign believes the final vote total will continue to move in their favor and his election lawyer, Marc Elias, declared on a conference call Thursday morning that the senator will be victorious and by the end of the month, he'll be preparing for a fourth term in Washington.

"At the end of this process Sen. Nelson is going to prevail," Elias said. "I am very measured in how I treat what I say. When I say it is currently a jump ball … I mean that."
Elias is "the attorney who infamously retained Fusion GPS to produce the largely discredited anti-Trump dossier on behalf of Hillary Clinton's 2016 presidential campaign, [who] has been retained to represent Sen. Bill Nelson's recount efforts in Florida," Breitbart News reported Thursday afternoon.
David Martosko of the Daily Mail tweeted about Elias's background on Thursday:
If you've forgotten, Marc Elias is the same Perkins Coie lawyer who engaged Fusion GPS using money passed through his firm by the DNC and the Hillary Clinton campaign. Small world! https://t.co/5tTJzB37um

— David Martosko (@dmartosko) November 8, 2018
Sarah Blakonis, a reporter for Bay News 9, tweeted that Elias claimed Nelson is likely to pick up votes in Palm Beach County as well as Broward County.
Elias says he's optimistic because a significant number of ballots haven't been counted. He says in #PalmBeachCounty, more than 10,000 have to be reviewed because of stray marks or improper scanning. Thinks significant amount will count and help #Nelson. @BN9

— Sarah Blazonis (@SarahBlazonis) November 8, 2018
"Let's be clear: When Elias says 'win,' he means 'steal,'" Gov. Rick Scott said in a statement late Thursday:
It is sad and embarrassing that Bill Nelson would resort to these low tactics after the voters have spoken clearly. Maybe next, he'll start ranting that Russians stole the election.
"Not all the ballots have been counted yet in South Florida, a Democratic stronghold," The Herald reported:
As of Thursday morning, two voter-rich counties were still tabulating an unknown number of ballots.

Broward County, where Nelson received 68.9 percent of the votes, was still counting early-voting, vote-by-mail and Election Day ballots.

Palm Beach County, where Nelson received 58.4 percent of the votes, was still counting vote-by-mail ballots.

If the breakdown of these pending ballots is anything close to the results so far, Nelson should pick up more votes than Scott.
"As Broward County appears to be at the epicenter of another recount, Supervisor of Elections Dr. Brenda Snipes is on the defensive about how her office has handled Tuesday's election results," Local 10 News reported on Thursday.
"Snipes, who has been at the helm of Broward County elections since 2003, had a testy exchange with Local 10 News investigative reporter Jeff Weinsier during an interview Thursday," the station reported, adding:
"But, Dr. Snipes, it is now Thursday," Weinsier said. "We are still counting ballots in Broward County."

"We're counting five pages or six pages for each of the people who voted," Snipes said.

"But other counties have been able to do it," Weinsier said.

"But other counties didn't have 600,000 votes out there," Snipes shot back.

"Well, Miami-Dade did," Weinsier said.
Sources tell Breitbart News that the Republican Party has already dispatched a team of attorneys to Broward County.
http://feedproxy.google.com/~r/breitbart/~3/R-b7HPPXkQQ/