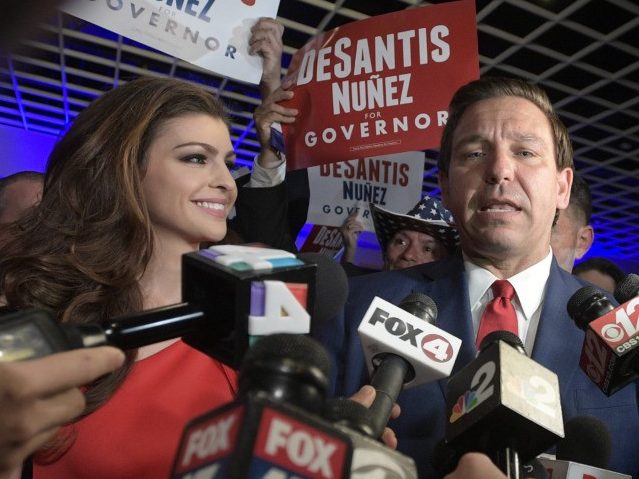 The Florida governor's race is headed for a machine recount, falling below the 0.5 percent margin required by state law before a recount is considered.
The latest returns show Republican candidate Ron DeSantis ahead of Democrat candidate and Tallahassee Mayor Andrew Gillum by less than 39,000 votes, or 0.47 percent, triggering an automatic recount under Florida state law.
🚨 Florida Governor's race for the FIRST TIME is heading to a recount

DeSantis 49.62%
Gillum: 49.15%

Margin: 0.47%

That's below the 0.5% trigger for a recount

— Marc Caputo (@MarcACaputo) November 8, 2018
Under Florida state law, a candidate running for office can declare victory if the margin of votes is greater than 0.5 percent of the total vote. If the margin of victory is equal or less than 0.5 percent, state law requires a machine to recount the votes.
If the margin of victory is less than or equal to 0.25 percent, state law requires the recount to be conducted by hand.
Although Gillum conceded the race to DeSantis, Gillum's campaign said Thursday it was "open" to the idea of asking elections officials to conduct a recount due to late ballots coming in.
"On Tuesday night, the Gillum for Governor campaign operated with the best information available about the number of outstanding ballots left to count. Since that time, it has become clear there are many more uncounted ballots than was originally reported," Gillum spokesperson Johanna Cervone said in a statement.
"Our campaign, along with our attorney Barry Richard, is monitoring the situation closely and is ready for any outcome, including a state-mandated recount," Cervone added.
Florida Secretary of State Ken Detzner told state election supervisors in a conference call Thursday morning that they should prepare for the possibility for a statewide recount and be prepared outside media attention.
"The recounts will be nationally watched … (we're) under a microscope," Detzner told the Tampa Bay Times.
http://feedproxy.google.com/~r/breitbart/~3/3m6BHLlQBRI/