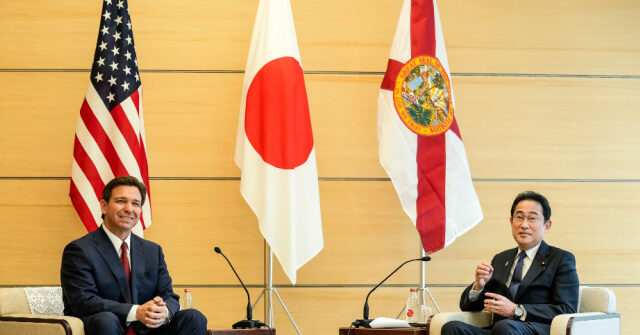 Florida Gov. Ron DeSantis (R) is visiting several countries this week as part of an international trade mission to "discuss ways in which Florida can expand economic partnerships," according to his office.
The governor is heading up the international trade mission, working with the public–private partnership Enterprise Florida alongside his wife, first lady Casey DeSantis, Florida Secretary of Commerce Laura DiBella, and Florida Secretary of State Cord Byrd. The trip is focused on building economic relationships with the Sunshine State. He is visiting Japan, South Korea, Israel, and the United Kingdom in hopes of strengthening economic partnerships with these countries.
"This trade mission will give us the opportunity to strengthen economic relationships and continue to demonstrate Florida's position as an economic leader," DeSantis said.
On Monday, he kicked off the trip by meeting with Japan Prime Minister Fumio Kishida, deeming the country a "strong trade partner with Florida." According to the governor's office, Japan stands as the sixth-largest foreign investor in Florida and the seventh-largest trade partner overall.
"I was happy to meet with the Prime Minister and his team to build on discussions we had during the SEUS Japan Conference in Florida. I look forward to continuing our prosperous business relationship," the governor said in a statement:
Governor DeSantis Meets Japanese Prime Minister Fumio Kishida https://t.co/FOoFbVNTK4

— Ron DeSantis (@GovRonDeSantis) April 24, 2023
We had the privilege of meeting with Prime Minister Kishida to build on discussions we had during the SEUS Japan Conference in Florida this past fall.

We look forward to strengthening the relationship between Japan and Florida. pic.twitter.com/AW1vVyRuQi

— Ron DeSantis (@GovRonDeSantis) April 24, 2023
DeSantis is also expected to meet with South Korean Prime Minister Han Duck-soo and United Kingdom Foreign Minister James Cleverly and deliver a keynote address in Israel as part of the Jerusalem Post and Museum of Tolerance Jerusalem's "Celebrate the Faces of Israel" event this week.
However, Israeli Prime Minister Benjamin Netanyahu is also open to meeting with DeSantis during the global trade mission.
"Of course, I'll meet with everyone. Why not?" he said during a recent appearance on Face the Nation.
"I meet with Republican governors and Democratic governors. I'm not avoiding the question. And actually, I'm, I'm rushing right into it. I'd meet with every American representative, governor, senator, members of Congress," Netanyahu continued.
"And I think it's, it's my job. And I think it's important for Israel's bipartisan support in the United States. I make a point of it," he added.
DeSantis's trip comes as the world awaits his decision about 2024. Many have noted the governor's recent blitz around the country, delivering speeches out of state and attending GOP events nationwide. For example, DeSantis was in Ohio for the Butler County Republican Party's Lincoln Day event last week as severe flooding engulfed Fort Lauderdale. The governor also appeared in Virginia and New Hampshire last week.
"He shouldn't be campaigning right now," Trump said of DeSantis in an interview with Breitbart News's Washington Bureau chief, Matthew Boyle. "He should be there."
RELATED: Flights Canceled, Travelers Stranded in Fort Lauderdale Airport Due to Severe Flooding
Ben Aird via Storyful
It remains unclear how this foreign trip will play into DeSantis's potential 2024 presidential plans, but poll after poll continues to show former President Donald Trump as the dominant Republican figure.
https://www.breitbart.com/politics/2023/04/24/florida-gov-ron-desantis-embarks-foreign-trip/