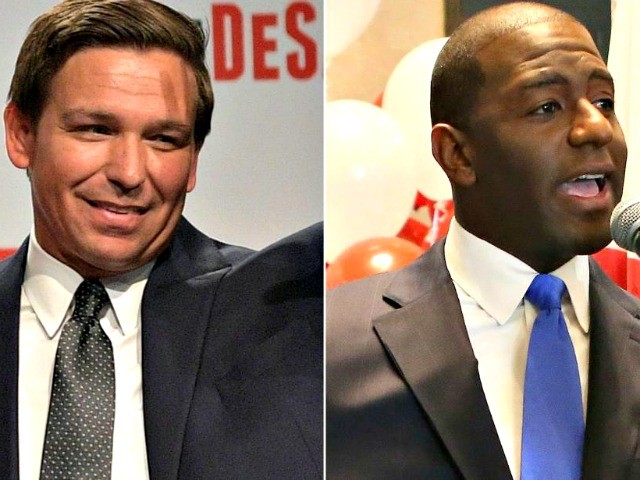 ORLANDO, Fla. — As voters go to the polls here, Floridians have a stark choice in their governor's race where far-left ideologue Andrew Gillum is running against staunch conservative Ron DeSantis.
Gillum is openly campaigning on Bernie Sanders' socialist-style "Medicare for All" plan, rants against the U.S. Immigration and Customs Enforcement (ICE) agency, and is proposing a forty-percent corporate tax hike that DeSantis warned in a recent interview with this reporter "would be the undoing of Florida."
DeSantis, on the other hand, is the former Congressman known for his strong support for President Donald Trump's policies. DeSantis is running on a conservative platform of across-the-board lower taxes, an end to judicial activism, protection of patients with pre-existing conditions, and strong border policies, including opposition to sanctuary cities and implementation of the E-verify system.
DeSantis served in Iraq for the U.S. Navy and received a Bronze Star Medal for Meritorious Service and the Iraq Campaign Medal before becoming the Congressman for Florida's Sixth District.
Gillum started his activism immediately after college by landing a job with the radical, George Soros-financed People for the American Way, or PFAW.  He served there first as field organizer in 2002 and then as Director of Youth Leadership Programs from 2005 until January 13, 2017. He departed PFAW just ahead of his gubernatorial run.
In his position of youth leadership director at PFAW, Gillum was in charge of both Young People For, or YP4, the organization's youth training program, and the organization's Young Elected Officials (YEO) Network, which he founded and which describes itself as "the first national program singularly-focused on providing a network of support to young progressive state and local elected officials."
YP4's mission was to challenge U.S. "predatory capitalism," abolish the prison system, fight a "spiritual resistance" battle against "Christian hegemony," redefine the meaning of "borders" while aiding "undocumented" aliens, and enact the "collective liberation" of "communities of color" amid what it described as the scourge of "white supremacy."
Gillum's group accused the U.S. of being a "colonialist" power perpetrating "structural violence" and "continued genocide." It claimed conservatives in the U.S. judicial system were "justifying white supremacist policing practices."
All of that extremist rhetoric and more was posted on the official "issues" sections of the organization's website while Gillum not only served as its active director, but while his picture, position and bio were brandished on the same site on the "staff" page.
A Breitbart News investigation found that even while he was a Tallahassee city commissioner and later the city's mayor, Gillum was heavily involved in the controversial YP4 youth leadership program as youth director, announcing multiple hires and headlining fundraising and group events.
During the current gubernatorial race, Gillum has faced controversy over his abject refusal to disavow Dream Defenders, an anti-patriotic, anti-capitalism, anti-military, anti-police organization that has engaged in activist efforts to promote the boycott of Israel and with which Gillum has been associated. DeSantis has repeatedly called for Gillum to distance himself from Dream Defenders.
Now it has emerged that Philip Agnew, the co-founder of Dream Defenders, is a 2005 graduate of Gillum's former YP4 group.
Also, at a January 17, 2014 YP4 summit, Gillum's YP4 gave Agnew the Norman Lear Award, named after the producer and activist who founded People for the American Way.
During a debate last month, Gillum claimed that he had "no idea" what DeSantis was referring to when he brought up a Dream Defenders pledge Gillum reportedly signed that supports a "radical manifesto."
"The fact is, Andrew signed a pledge with the Dream Defenders pledging his support, this radical manifesto," DeSantis said at the televised debate.
"I have no idea what pledge he is talking about," Gillum replied.
Gillum's claim of ignorance about the pledge came despite his already known close relationship with Dream Defenders. Gillum has talked about aiding the group's activism and has written in strong support of Dream Defenders and its co-founder, Agnew. In turn, Agnew himself recently described a long and close working and personal relationship with Gillum and said he considers Gillum to be "part of the movement."
Gillum was taped at a June debate saying that he is "pleased and proud" to have sneaked food to Dream Defenders activists during a 30-day sleep-in protest at the Florida State Capital, referring to a 2013 month-long anti-gun protest in the wake of the Trayvon Martin shooting. "I hope you keep at it," Gillum said of Dream Defenders activists during a June event.
In June 2018, Gillum signed a Dream Defenders pledge containing specific language stating, "I pledge my support to the Freedom Papers." The organization's "Freedom Papers," in turn, exclaim that "police and prisons have no place in 'justice.'"
DeSantis, meanwhile, has been focusing on growing Florida's economy. DeSantis said he will capitalize on Florida's attractive positon following Trump's change in state and local tax (SALT) deductions. He pledged to further "do what we can in terms of eliminating some dumb taxes in Florida, like a business rent tax. I would like to reduce our business tax generally."
"The greater imbalance we can have between a low tax Florida and high tax in these other areas that is going to recruit more and more investment into Florida."
Speaking to Breitbart News, DeSantis continued: "And I think we are looking at a mass migration potentially of financial services into places like Palm Beach and Miami. I think you're going to see more technology developed in Florida if we keep the climate good and do some of the things I am talking about. And then even manufacturing because I think it would be attractive to expand the manufacturing footprint here."
DeSantis warned that if Gillum is victorious then Florida will "become a petri dish for people like George Soros and Tom Steyer," referring to the activist billionaires.
Days before Gillum's Aug. 28 primary, Soros joined with fellow billionaire Steyer to lead a group of donors making a $650,000 infusion into Gillum's coffers.
Soros contributed to The Collective, a little-known but increasingly influential political organization that says it is seeking to build a "black political power" movement. The Collective reportedly injected nearly $2 million into Gillum's campaign, funding television and radio ads and get-out-the-vote drives.
Gillum recently disclosed a New York hotel invoice made out to Soros's Open Society Foundations for the same weekend the politician was in the city and obtained a ticket to see the popular "Hamilton" Broadway show in a fiasco involving a corruption probe of the city of Tallahassee, where he serves as mayor, and undercover FBI agents.
Breitbart News reported that Gillum graduated from an Oakland, California-based training school for progressive revolutionaries that has spawned a list of activists who have gone on to become the who's who of the far-left leadership world, with many taking senior positions at organizations financed by Soros.
In scores of cases, graduates of the Rockwood Leadership Institute founded or directed notorious Soros-financed activist groups, such as Black Lives Matter, Media Matters for America, MoveOn.org and the Tides Foundation, one of the nation's largest funders of progressive groups.
Soros's own Open Society Foundations sent top staff to Rockwood for training. Notorious radicals Van Jones and Linda Sarsour are among the many famous names listed as alums.
Gillum is listed as a 2012 Rockwood alum. The Florida politician's involvement with the radical school was not cursory or symbolic. Only five months ago, Gillum boasted in a speech to the Center for Environmental Health that he attended the institute "for about a year and a half."
Aaron Klein is Breitbart's Jerusalem bureau chief and senior investigative reporter. He is a New York Times bestselling author and hosts the popular weekend talk radio program, "Aaron Klein Investigative Radio." Follow him on Twitter @AaronKleinShow. Follow him on Facebook.
Joshua Klein contributed research to this article. 
http://feedproxy.google.com/~r/breitbart/~3/osjQZbFCVjM/