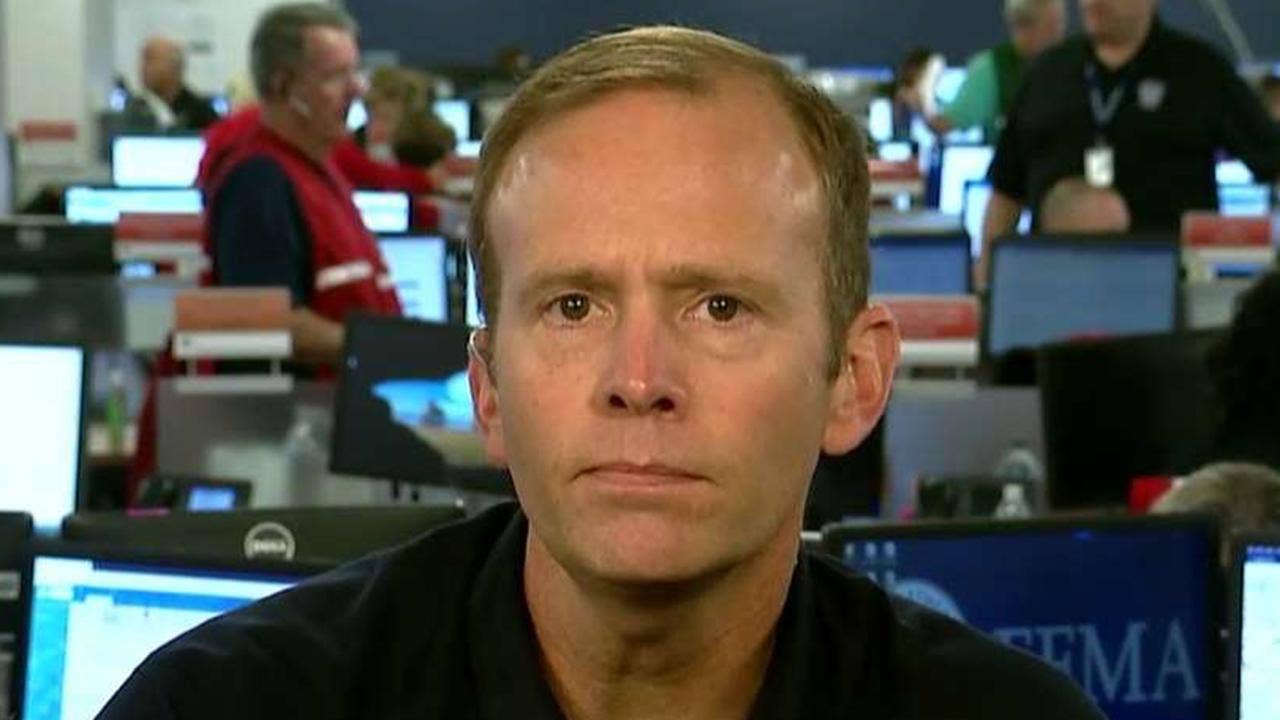 Federal officials and lawmakers on Sunday said that while they are well prepared for the disaster relief efforts as the damaging winds and rains from tropical depression Florence continue to batter the Eastern Seaboard, the long-term impact of the storm is still yet to be determined.
"This is going to be a long, frustrating recovery," FEMA Administrator Brock Long said during an interview on "Fox News Sunday."
As the death toll from Florence mounted and hundreds of people were pulled from flooded homes, North Carolina is bracing for what could be the next stage of a still-unfolding disaster: catastrophic, widespread river flooding.
After blowing ashore as a hurricane with 90 mph winds, Florence virtually parked itself much of the weekend atop the Carolinas as it pulled warm water from the ocean and hurled it onshore. Storm surges, flash floods and winds forged a wide path of destruction and the Marines, the Coast Guard, civilian crews and volunteers used helicopters, boats and heavy-duty vehicles on Saturday to conduct rescues.
The death toll from the hurricane-turned-tropical depression climbed to at least 14.
Rivers are swelling toward record levels, forecasters now warn, and thousands of people have been ordered to evacuate for fear that the next few days could bring the most destructive round of flooding in North Carolina history.
"We are going to have more evacuation notices as the rivers rise; you need to heed the warnings," Sen. Thom Tillis, R-N.C., said on "Fox News Sunday."
Stream gauges across the region showed water levels rising steadily, with forecasts calling for rivers to crest Sunday and Monday at or near-record levels: The Little River, the Cape Fear, the Lumber, the Neuse, the Waccamaw and the Pee Dee were all projected to burst their banks, possibly flooding nearby communities.
Authorities ordered the immediate evacuation of up to 7,500 people living within a mile of a stretch of the Cape Fear River and the Little River, about 100 miles from the North Carolina coast. The evacuation zone included part of the city of Fayetteville, population 200,000.
Florence weakened to a tropical depression early Sunday and was crawling west at 8 mph. At 5 a.m., the storm was centered about 20 miles southwest of Columbia, S.C. Its winds were down to 35 mph.
Despite the weakening of the storm, officials said that — given its slow speed and the possibility for catastrophic flooding – Florence could be one of the most destructive storms in the history of the Carolinas.
"We are still recovering from Hurricane Matthew," Tillis said. "I think this storm will produce a greater impact."
He added: "It's fair to say in economic impact, the rebuilding could cost in the billions of dollars."
The Associated Press contributed to this report.
http://feeds.foxnews.com/~r/foxnews/politics/~3/q3ZsGA4Qwzo/florence-is-going-to-be-long-frustrating-recovery-fema-director-says.html