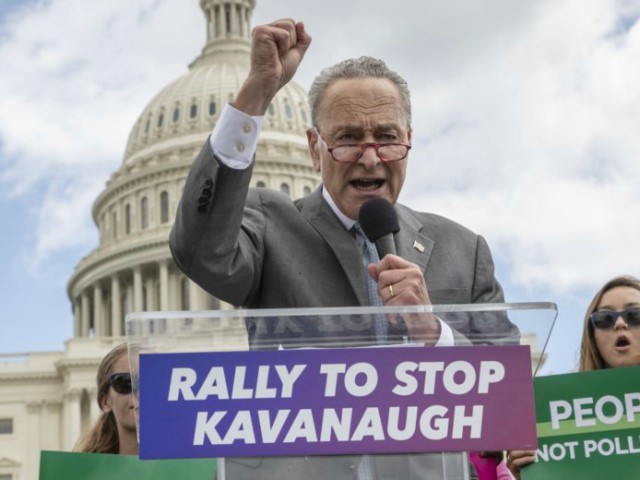 Senate Minority Leader Chuck Schumer (D-NY) promised he would launch an aggressive anti-Brett Kavanaugh campaign, saying he would oppose "Judge Kavanaugh's nomination with everything" he has, which he stated the same day in July that President Donald Trump nominated Kavanaugh for the Supreme Court.
On July 9, President Trump announced Judge Brett Kavanaugh as his nominee for the Supreme Court. The same day, Schumer announced that he planned to launch an aggressive campaign to oppose Kavanaugh's nomination. He would do it, he said, "with everything I have" because the "stakes are simply too high":
I will oppose Judge Kavanaugh's nomination with everything I have, and I hope a bipartisan majority will do the same. The stakes are simply too high for anything less.
Read my full statement on #WhatsAtStake: https://t.co/BYtcB3LWWB #StopKavanaugh pic.twitter.com/5f2Bomxltb

— Chuck Schumer (@SenSchumer) July 10, 2018
"I'm calling on Americans from all walks of life to make their voices heard from now until the end of this battle," Schumer said.
The New York Democrat continued:
This nomination could alter the balance of the court in favor of powerful special interests and against working families for a generation and would take away labor, civil, and human rights from millions of Americans. We cannot let that happen. If we can successfully block this nomination, it could lead to a more independent, moderate selection that both parties could support [Emphasis added].
Soon after Schumer's statements, reports emerged regarding Senate Democrats' tactics to delay and disrupt the Senate confirmation process. During the Senate Judiciary Committee's confirmation hearings, many leftist protesters shouted and disrupted the proceedings. Senate Minority Whip Dick Durbin (D-IL) admitted he and Senate Democrat leadership participated in conference calls to coordinate with leftist protesters to disrupt the hearings.
Immediately after the hearings, Senate Judiciary Committee ranking member Sen. Dianne Feinstein (D-CA) referred a letter to the FBI that led the Washington Post to reveal that Christine Blasey Ford, a California psychologist, accuses Kavanaugh of sexually assaulting her when they were both in high school.
Senate Judiciary Committee chairman Chuck Grassley (R-IA) subsequently delayed the committee's confirmation vote to hold a hearing with Kavanaugh and Ford. Grassley scheduled the hearing for this Thursday.
On Sunday, the New Yorker broke an accusation from Deborah Ramirez, a woman claiming that as a Yale University 18-year-old freshman, Kavanaugh exposed himself to her at a drunken party. Ramirez reportedly spent six days discussing this with her lawyer before she was certain it was Kavanaugh.
Sen. Feinstein then said that in light of the second accusation against Kavanaugh, the Thursday hearing should be canceled to investigate all of the claims against the Supreme Court nominee:
Thursday's hearing should be canceled in light of a disturbing new allegation of sexual misconduct against Brett Kavanaugh. The FBI must investigate ALL allegations.

— Sen Dianne Feinstein (@SenFeinstein) September 24, 2018
Ranking member Feinstein then wrote a letter to chairman Grassley demanding additional delays and investigations into the accusations:
I am writing to request an immediate postponement of any further proceedings related to the nomination of Brett Kavanaugh. I also ask that the newest allegations of sexual misconduct be referred to the FBI for investigation and that you join our request for the White House to direct the FBI to investigate the allegations of Christine Blasey Ford as well as these new claims.
Similarly to Feinstein, Schumer called for an independent background check to investigate the sexual assault allegations against Kavanaugh. Schumer asked rhetorically, "If President Trump and Senate Republicans are so certain the allegations against Judge Kavanaugh aren't true, then why are they blocking the FBI from reopening the background check and investigating—a routine practice for judicial nominees?"
Schumer added, "What are they hiding?"
http://feedproxy.google.com/~r/breitbart/~3/qbnv0joU2dM/