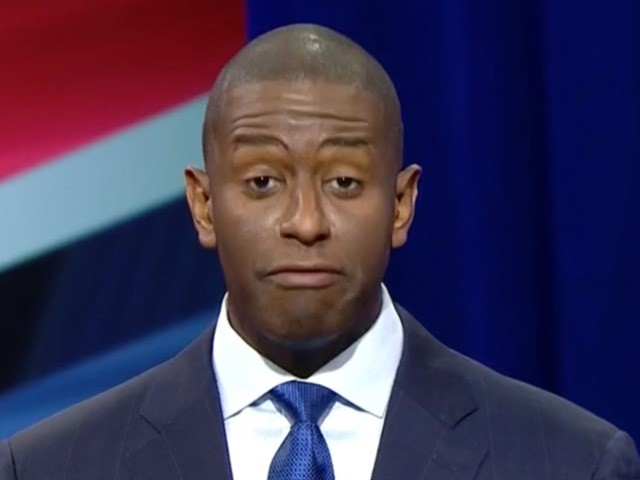 ORLANDA, Fla. — Florida gubernatorial candidate and Tallahassee Mayor Andrew Gillum has shifted his response numerous times regarding his involvement in a corruption probe involving the city of Tallahassee, discussion of trips and undercover FBI agents.
The evolving narrative continued after text messages and email records, released on Tuesday, appeared to document that an undercover FBI agent provided the candidate's ticket to the popular Broadway show "Hamilton."
The FBI agent, who went by the name Mike Miller, reportedly posed as a developer and sent a message on July 13, 2016 seeking to "thank" "AG" – most likely Gillum – one week after Gillum participated in a vote to expand the Frenchtown/Southside Community Redevelopment Agency for which Miller was advocating.
The records related to the issue were released as part of a subpoena by the lawyer for former Florida lobbyist Adam Corey, a longtime Gillum ally. In 2013, Gillum participated in a vote to provide more than $2.1 million in city money to renovate a restaurant project co-owned by Corey.
Below is a list of five times Gillum's story changed when responding to the ongoing controversy:
1 – Gillum claimed the "Hamilton" tickets were obtained in a "swap" with Corey. Text messages released afterward paint a different picture.
Last month, after the story initially gained traction, the campaign claimed that Gillum's brother Marcus provided the ticket and after the New York trip Gillum purportedly learned that his brother got the ticket in a "swap" with Corey.
"Marcus Gillum gave Mayor Gillum a ticket to see 'Hamilton' that night," the campaign claimed on Sept. 4. "After the trip, Mayor Gillum learned Marcus Gillum had obtained that ticket in a swap with Adam Corey for a concert ticket."
Contrary to the "swap" claim, text messages that are part of the records released in the subpoena involving Corey's lawyer show the genesis of the "Hamilton" ticket as coming from the undercover FBI agent, Miller, and not in any swap with Corey.
"Just checking in with you. Mike Miller and the crew have tickets for us for Hamilton tonight at 8 p.m.," Corey texted Gillum on Aug. 10, 2016, according to the records.
Gillum replied: "Awesome news about Hamilton."
Another text message makes clear that the ticket did not originate with Corey. "We have Hamilton tickets tonight at 8," Miller wrote in a text message to Corey and Marcus Gillum.
Yet another message shows that it was Miller who introduced the concept of going to "Hamilton."
Subsequent statements from Gillum abandoned the "swap" narrative.
2 – After an initial batch of documents were released last week, Gillum's campaign issued a statement framing the issue as attending a Broadway show involving his brother and "a group of his own friends" picking up tickets. Gillum's statement overlooks that his brother's "group" of "friends" were actually former lobbyist Corey and an undercover FBI agent who posed as a developer investigating corruption tied to the city of Tallahassee, where Gillum serves as mayor.
The statement reads:
These records vindicate and add more evidence that at every turn I was paying my own way or was with my family, for all trips, including picking up tickets from my brother, Marcus, who was with a group of his own friends. But this isn't about a Broadway show, it's about a sideshow, because Ron DeSantis and his associates have no vision, no healthcare plan, and are running the most false, negative campaign in Florida history. Floridians deserve better.
The statement, like other responses from Gillum and his campaign, failed to address the boat ride Gillum reportedly took with Miller and another undercover FBI agent just prior to the Broadway show.
Also unaddressed are text messages involving possible arrangements for a hotel room in New York and discussion of the possibility of going to Las Vegas.
3 – Gillum claimed he doesn't "take free trips from anybody."
"I don't take free trips from anybody," Gillum claimed in his first debate with opponent Ron DeSantis last Sunday. "I'm a hard-working person, I know that may not fit your description of what you think people like me do, but I've worked hard for everything that I've gotten in my life, and I don't need anybody handing me anything for free."
His statement seems at odds with the picture emerging from the documents.
PolitiFact concluded of Gillum's debate statement:
The texts don't support what Gillum's campaign has said about the matter. They also suggest that Gillum's response to a similar question during the Oct. 21 CNN debate was, at the least, incomplete.
4 – Gillum avoided directly answering who paid for his "Hamilton" ticket, instead stating that he is a "hard-working person."
The issue took center stage during last Sunday's debate between Gillum and DeSantis during which DeSantis directly asked: "Did you pay for the 'Hamilton' ticket, or did the undercover FBI agent pay for the 'Hamilton' ticket?"
Gillum sidestepped the question with an indirect response. "We all have friends that sometimes let us down," Gillum said, referring to Corey.
"I'm a hard-working person," Gillum added. "I know that may not fit your description of what you think people like me do."
5 – Gillum suggested racism may be a factor in the ongoing focus on his involvement in the corruption probe.
Gillum responded last Wednesday to the release of documents by claiming, "The goal is obviously to use my candidacy as a way to reinforce, frankly, stereotypes about black men."
Gillum made the remarks in a Facebook Live video.
He further stated:
These messages only confirm what we have said all along. We did go to see Hamilton. I did get my ticket for Hamilton from my brother. At the time, we believed that they were reserved by friends of Adam's, Mike Miller, and when I got there after work got my ticket, we went in and saw, it assumed my brother paid for it and so far as I know that was the deal.
Aaron Klein is Breitbart's Jerusalem bureau chief and senior investigative reporter. He is a New York Times bestselling author and hosts the popular weekend talk radio program: Aaron Klein Investigative Radio. Follow him on Twitter @AaronKleinShow. Follow him on Facebook.
Joshua Klein contributed research to this article.
http://feedproxy.google.com/~r/breitbart/~3/B7cjUevK-w0/