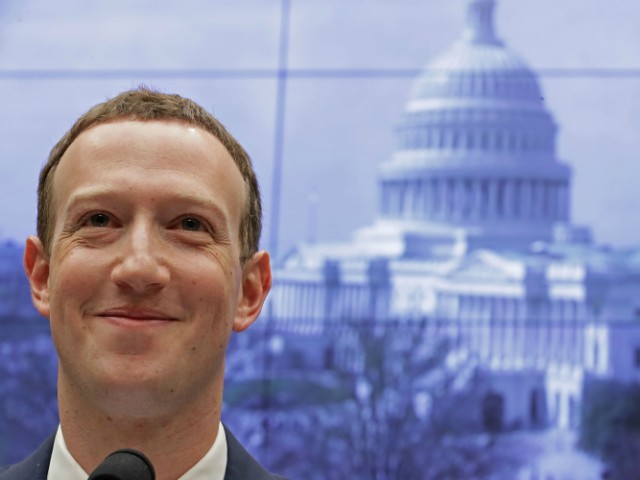 Ahead of the November midterm elections, Breitbart News has decided to highlight some of the security and influence concerns surrounding the social media giant Facebook.
As the November midterm elections draw close, social media firm Facebook has begun attempting to crack down on "misinformation" on the platform as well as focusing on platform security, an area which its had issues with recently. Breitbart News has compiled a list of a number of ways in which Facebook's issues could affect the November midterm elections.
1: Impersonation of Politicians and Political Groups
One issue that Facebook is now facing is in their "Paid For" feature on political advertisements, initially designed to provide more clarity around who was funding political advertising on the platform, the feature has caused more confusion as it can be easily manipulated.
A recent report from Vice News showed how easily Facebook's new political advertising tools can be manipulated with little to no verification by Facebook. The social media giant added a mandatory "Paid For" disclosure to political ads in May, which aimed to provide further clarity to the origin of political advertisements on the website. Instead, it appears that this mandatory field can be used to spread misinformation.
Vice first successfully placed ads on Facebook using the name of a number of prominent political figures and groups including Vice President Mike Pence, Democratic National Committee Chairman Tom Perez, and even the terrorist group ISIS. All of these ads were approved by Facebook with the names of these political figures and groups included within the "Paid For" disclosure.
Now Vice News has shown once again how easily the political advertising system can be fooled, this time by posing as all 100 U.S. senators and successfully running advertisements indicating they were "paid for" by each senator.
2: Facebook's Election War Room
In an attempt to prepare themselves for the midterm elections, Facebook has developed a "War Room" to try and deal with election-related issues as they arise.  An article published in the New York Times titled "Inside Facebook's Election 'War Room'" gives a unique insight into Facebook's preparations ahead of upcoming elections. The article begins by describing Facebook's War Room and explaining it's use by the company:

Although it is not much to look at now, as of next week the space will be Facebook's headquarters for safeguarding elections. More than 300 people across the company are working on the initiative, but the War Room will house a team of about 20 focused on rooting out disinformation, monitoring false news and deleting fake accounts that may be trying to influence voters before elections in the United States, Brazil and other countries.

"We see this as probably the biggest companywide reorientation since our shift from desktops to mobile phones," said Samidh Chakrabarti, who leads Facebook's elections and civic engagement team. The company, he added, "has mobilized to make this happen."
With Chakrabarti stating that the company "mobilized to make this happen," it would appear that Facebook is taking the issue of election integrity quite seriously, likely spurred on by Facebook CEO Mark Zuckerberg and COO Sheryl Sandberg's appearance before Congress.
The article further describes how the War Room works stating:
The War Room is a "proactive" way to build systems in anticipation of attacks, Greg Marra, a product manager working on Facebook's News Feed, said in a conference call with reporters on Wednesday.

One of the tools the company is introducing is custom software that helps track information flowing across the social network in real time, said Mr. Chakrabarti, who joined Facebook about four years ago from Google.

These dashboards resemble a set of line and bar graphs, with statistics that provide a view into how activity on the platform is changing. They allow employees to zero in on, say, a specific false news story in wide circulation or a spike in automated accounts being created in a particular geographic area.
However, the War Room could easily become a weaponized tool by Facebook if they choose to attempt to shift votes in a certain direction, this could be done by simply stopping the spread of certain information or deleting or removing entire accounts or pages. These practices can be seen in the next point
3: Shutting Down Political Dissidents
Facebook recently blacklisted accounts and pages from the "main network of support" for right-wing Brazilian Presidential Candidate Jair Bolsonaro less than a week before Brazil's runoff election recently. Reuters reported that Facebook shut down 68 pages and 43 accounts linked to the Brazilian marketing group Raposo Fernandes Associados (RFA) for violating the website's rules related to spam.
The Brazilian newspaper O Estado de S. Paulo has claimed that the marketing group has been one of the biggest support networks for right-wing Brazilian Presidential Candidate Jair Bolsonaro. Facebook said that RFA created Facebook pages using multiple accounts or fake accounts with the same name and posted multiple clickbait style links which lead to "ad-farming" websites.
Facebook said in a statement: "Our decision to remove these pages was based on the behavior of these actors – including using fake accounts and repeatedly posting spam – rather than on the type of content they were posting."
Facebook has claimed that the removal of RFA's pages and accounts had been part of the many actions they have taken "to prevent bad actors from interfering with Brazil's elections on Facebook." Brazils leftist presidential contender, Fernando Haddad of the Workers Party, has claimed that the Facebook-owned messaging app WhatsApp was being used to spread spam and misinformation surrounding the election.
While many may think that such actions would never be taken in the United States, Facebook recently blacklisted the right-wing group called the Proud Boys and their founder Gavin McInnes.
Business Insider reported recently that Facebook banned Gavin McInnes, along with certain accounts linked to the Proud Boys, the organization founded by McInnes. On Tuesday, social media users began reporting that accounts linked to members of the group were being removed from Facebook, now the company has confirmed that they are banning accounts linked to the Proud Boys and Gavin McInnes from Facebook and Instagram, citing the platform's rules against hate groups as its reason for doing so.
Facebook reportedly told Business Insider:"Our team continues to study trends in organized hate and hate speech and works with partners to better understand hate organizations as they evolve. We ban these organizations and individuals from our platforms and also remove all praise and support when we become aware of it. We will continue to review content, Pages, and people that violate our policies, take action against hate speech and hate organizations to help keep our community safe."
4: Mark Zuckerberg Has Vowed to Crack Down on "Hate Speech"
Facebook CEO Mark Zuckerberg stated recently that the upcoming U.S. midterm elections will be "a real test" of the company's ability to crack down on "hate speech" and misinformation.
The Hollywood Reporter stated in a recent article that Facebook will make its biggest increase in money spent to combat "hate speech" and misinformation on its platform this year, according to CEO Mark Zuckerberg. Zuckerberg stated that despite Facebook's increased expenditure, the company still won't be as "dialed in as well as everyone would like us to be," in relation to security and influence campaigns on the platform.
Zuckerberg stated that the upcoming midterm elections will be "a real test" of the newly implemented safeguards designed to protect the platform from "bad actors," following reports of numerous foreign influence campaigns on the social media website. Zuckerberg said that during the upcoming election, the platform will see "all the good and bad that humanity can do," but that the social media platform is getting better at hiding the "bad stuff" from users.
Zuckerberg stated that the social media firm will "never be perfect" at safeguarding users data — an issue that Facebook has had extensive problems with over the past year. The CEO stated that there is no "silver bullet" that would fix the issue of user data leaks.
5: User Data Vulnerabilities
Facebook has faced numerous user data leaks and breaches over the past year, from the Cambridge Analytica scandal in March which saw the personal details of 87 million Facebook users left exposed to the company's most recent data breach in October which the company claims was nearly undetectable. During an Advertising Week panel in October Facebook's vice president of global marketing solutions, Carolyn Everson, explained that the company's latest user data breach which affected the accounts of 50 million people was a "sophisticated attack." Everson stated: "This was an attack, an attack that would require people to understand three different bugs."
Everson further said that the attackers were like an "odorless, weightless intruder that walked in" that could only be detected by Facebook "once they made a certain move." The security bug reportedly related to a vulnerability in Facebook's "view as" feature which allowed users to see what their own Facebook profile would look like to someone else. This bug allowed hackers to steal the security tokens of other users accounts and use these to then access that user's account. These security tokens are like digital keys which keep users logged into Facebook so they don't have to re-login every time they visit the website.
It later came to light that the same security tokens could be used to access accounts of websites that use the "Facebook Login" feature. This means that any third-party app that uses the "Facebook Login" feature could be at risk, including apps such as Instagram, Tinder, Airbnb and many others. Guy Rosen, Facebook's vice president of product management, stated in the blog post revealing the bug: "The vulnerability was on Facebook, but these access tokens enabled someone to use the account as if they were the account-holder themselves."
Discussing the rise in user data leaks, Everson stated: "This is the most significant cultural shift: Recognizing our responsibility, taking very specific actions and doing everything we can." Everson also discussed WhatsApp co-founder Brian Acton's recent critical remarks about Facebook stating that she'd like to "hear more about their philanthropy." The also described the recent departure of Instagram co-founders Kevin Systrom and Mike Krieger as a "very, very friendly and cordial departure."
All of these problems pose significant threats during the upcoming election given the influence that Facebook seems to have in the modern world. Breitbart News readers should continue to stay alert on social media and watch out for suspicious activity leading up to the election.
Lucas Nolan is a reporter for Breitbart News covering issues of free speech and online censorship. Follow him on Twitter @LucasNolan or email him at lnolan@breitbart.com
http://feedproxy.google.com/~r/breitbart/~3/LuwDKk167ds/