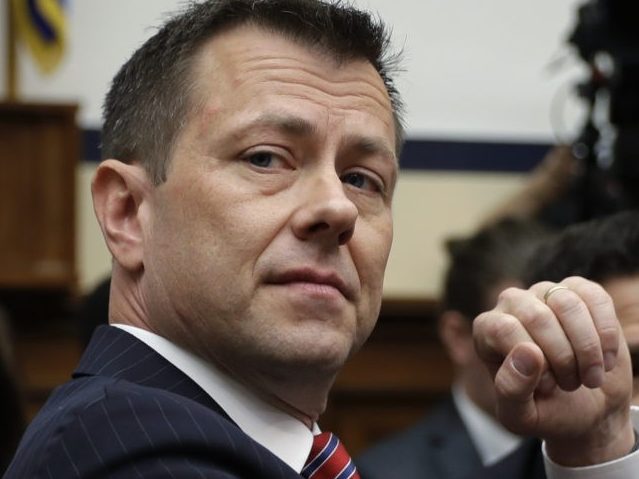 Thanks to our efforts in the courts, we've known for some time now that Hillary Clinton used her unsecure illicit email system to transmit sensitive information.
Turns out those supposedly investigating her in the FBI did some of the same.
We just received 47 pages of records from the Department of Justice, including email exchanges between fired FBI official Peter Strzok and FBI attorney Lisa Page revealing that FBI officials used unsecure devices in discussing how the U.S. could improve the sharing of sensitive data with the European Union top executive governing commission.
The documents also reveal that high-ranking FBI officials were not properly read-in to top-secret programs.
We obtained the documents through a January 2018 Freedom of Information Act (FOIA) lawsuit filed after the DOJ failed respond to a December 4, 2017 FOIA request (Judicial Watch v. U.S. Department of Justice (No. 1:18-cv-00154)). We were seeking:
All records of communications, including but not limited to, emails, text messages and instant chats, between FBI official Peter Strzok and FBI attorney Lisa Page;
All travel requests, travel authorizations, travel vouchers and expense reports of Peter Strzok.
All travel requests, travel authorizations, travel vouchers and expense reports of Lisa Page.
The newly obtained emails came in response to a May 21 order by U.S. District Judge Reggie B. Walton to the FBI to begin processing 13,000 pages of records exchanged exclusively between Strzok and Page between February 1, 2015, and December 2017. The FBI refuses to timely process the records and will not complete review and production of all the Strzok-Page materials until at least 2020.
In a January 30, 2016 email exchange sent entirely over unsecure devices, top former FBI officials including General Counsel Jim Baker, Deputy Director Andrew McCabe, Strzok, Page, unidentified individuals from the DOJ's National Security Division and NSA General Counsel Glenn Gerstell, discuss a draft document with the subject line: "Revised IC Safe Harbor Letter (from [redacted] using [redacted] iPad)."
Baker notes in the exchange that he is attempting to work on the document using his smartphone: "So it is not possible to read the redlines on my smartphone. If you are still at the office, can you please save the redline version as a PDF and then resend? Thanks."
Also, in the exchange, Strzok writes to Page "AND [GOD***MIT] GIVEN EVERYTHING GOING ON WHY IS [redacted] USING A YAHOO! ACCOUNT FOR THIS? (Actually, apparently a Yahoo! Account from [redacted's] iPad. Make him stop!!!!!!"
IC Safe Harbor refers to a European Commission data-sharing arrangement with the United States that allowed for the transfer of personally identifiable information from the EU to the U.S. The arrangement was invalidated by the European Court of Justice in 2015 after disclosures of NSA surveillance operations by Edward Snowden. The court ordered that a new, stronger version of the arrangement be reached by January 31, 2016.
Five hundred million Yahoo! accounts reportedly were hacked in 2014. And, "a different attack in 2013 compromised more than 1 billion accounts. The two attacks are the largest known security breaches of one company's computer network." According to IT experts, the iPad is also notoriously insecure from hacking.
In a February 5, 2016, email Strzok indicates to Page that at least two, and possibly more, top FBI officials had not been properly "read-in" to top-secret, compartmented programs. Those included McCabe and Assistant Director for Counterintelligence Bill Preistap. It is indicated Page needs some read-ins as well.
Strzok writes:
Lisa — you were right, I was wrong (first time for everything), you're good. Andy, however needs [redacted] (as does Bill P). I will take care of Bill — would you or someone on DD staff handle paperwork for Andy? Looking to get a bulk read-in done next week; to the extent Andy wants to join, I will let you know the time. I suspect, he (/you) may need other compartments as well, so it might make sense to do his separately en masse (that's French for "all at once" … I'm not just a leader, I'm an educator).
Page responds:
Aww, it's so cute that you think this is the first time you've been wrong. No reason to disrupt the fantasy now; the sad truth of reality will come crushing down soon enough.
In a January 28, 2016, email to Page, Strzok apparently mocks people with developmental disabilities when he complains to Page about the inefficient mail handling system: "Cool — I have three pieces of mail for 7th floor – what's the easiest way to get them into the system there rather than waiting on Melwood mail system?"
Melwood is a nonprofit organization which helps those with developmental disabilities get jobs (such as sorting mail). The FBI employs and has even given awards to people placed by Melwood.
Here we see the top echelon of U.S. cyber security and law enforcement officials looking like Keystone Cops. And the emails show Strzok's extreme lack of professional behavior in his FBI communications. Judicial Watch is frustrated by the FBI's slow roll of documents at a rate that will not see all releasable Page-Strzok documents provided until 2020.
Tom Fitton is president of Judicial Watch.
http://feedproxy.google.com/~r/breitbart/~3/FK7JAgYX0sE/