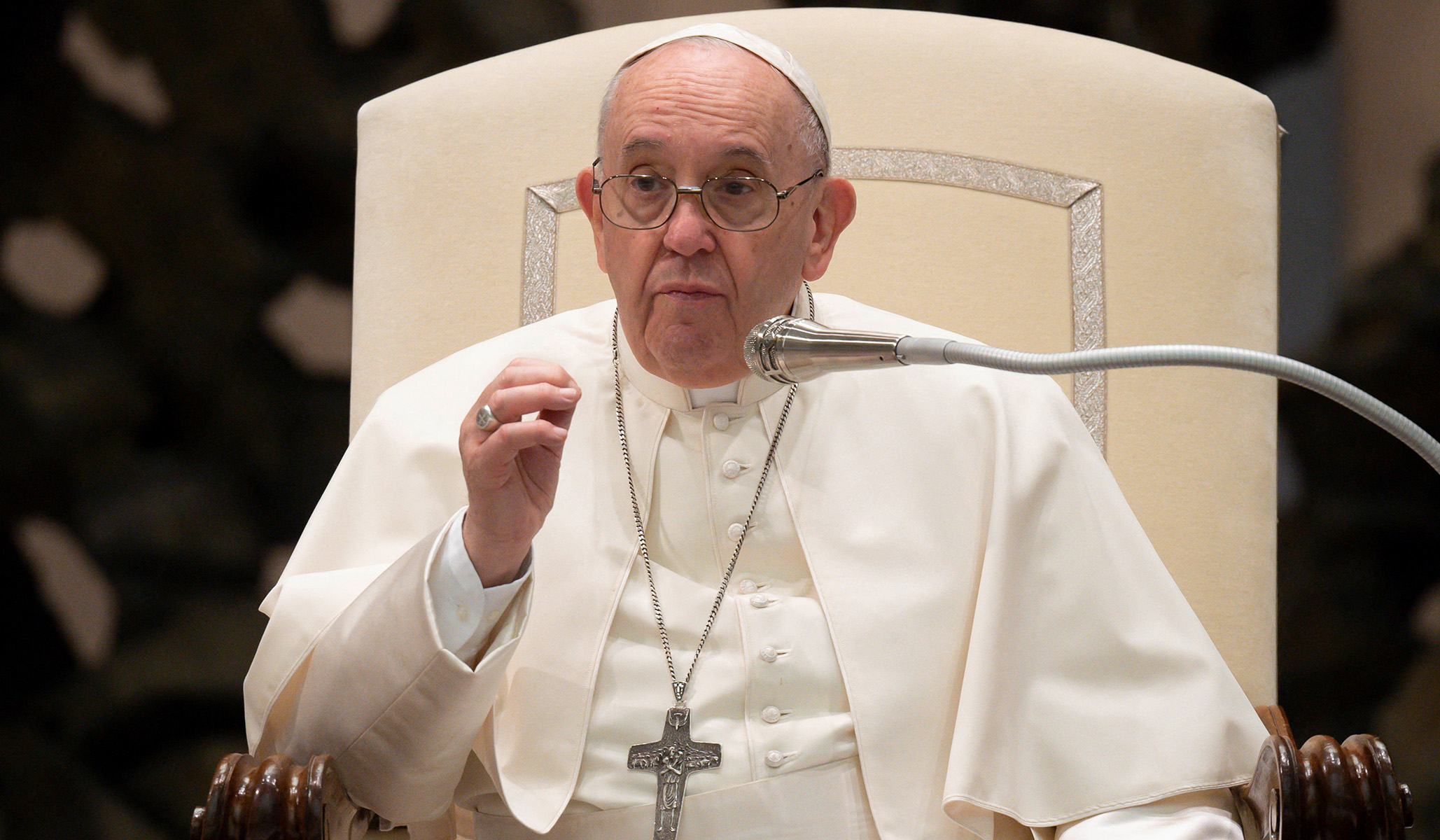 Two considerations stand for us Christians. The first: we cannot avoid death, and precisely for this reason, after having done everything that is humanly possible to cure the sick, it is immoral to engage in futile treatment (cf. Catechism of the Catholic Church, no. 2278). That phrase of the faithful people of God, of the simple people: "Let him die in peace", "help him to die in peace": such wisdom! The second consideration concerns the quality of death itself, the quality of pain, of suffering. Indeed, we must be grateful for all the help that medicine endeavours to give, so that through so-called "palliative care", every person who is preparing to live the last stretch of their life can do so in the most human way possible. However, we must be careful not to confuse this help with unacceptable drifts towards killing. We must accompany people towards death, but not provoke death or facilitate any form of suicide. I would point out that the right to care and treatment for all must always be prioritised, so that the weakest, particularly the elderly and the sick, are never discarded. Life is a right, not death, which must be welcomed, not administered. And this ethical principle applies to concerns everyone, not just Christians or believers.

I would like to underline a real social problem. That "planning" – I don't know if it is the right word – but accelerating the death of the elderly. Very often we see in a certain social class that the elderly, since they do not have means, are given fewer medicines than they need, and this is inhuman; this is not helping them, it is driving them towards death earlier. This is neither human nor Christian. The elderly should be cared for as a treasure of humanity: they are our wisdom. And if they do not speak, or if they do not make sense, they are still the symbol of human wisdom. They are those who went before us and have left us so many good things, so many memories, so much wisdom. Please, do not isolate the elderly, do not accelerate the death of the elderly. To caress an elderly person has the same hope as caressing a child, because the beginning of life and the end are always a mystery, a mystery that should be respected, accompanied, cared for. Loved.
2. Washington Post: Vermont moves forward on becoming first state to guarantee the right to abortion in its constitution
3. Chen Guangcheng: The CCP's Fake Democracy: How the CCP Controls China and Fools the World
The CCP's very own propaganda — the ultimate in fake news misinformation — often makes its way into Western media. With the CCP recently making the preposterous claim that the Chinese people engage in democratic government, and with the self-aggrandizing Olympics ongoing despite worldwide calls for a boycott, it is even more important than ever to set the record straight.
4. Daily Signal: 'Unsilenced': New Film Lifts Curtain on Horrors Committed by Chinese Communist Party
5. Andrea Picciotti-Bayer: Beijing's Propaganda Stunt Is Classic 'Gaslighting'
6. AP News: In India, wearing hijab bars some Muslim students from class
A month on, more schools have begun implementing a similar ban on hijabs, forcing the state's top court to step in. It will hear petitions filed by the protesting students on Tuesday and rule on whether to overturn the ban.

But the uneasy standoff has raised fears among the state's Muslim students who say they are being deprived of their religious rights. On Monday, hundreds of them, including their parents, took to the streets against the restrictions, demanding that students should be allowed to attend classes even if they are wearing hijab.
7.
hey everybody, an academic chair in physician-assisted killing https://t.co/W9PMnGhoBP

— Charlie Camosy (@CCamosy) February 8, 2022
8. Washington Post: A rabbi decided to sponsor an Afghan refugee family. When he needed a hand, he brought in a mosque and a church.
9.
This is exceptional news & the right decision by @EliseStefanik.

First Amendment and women's rights are severely compromised in the Fairness for All proposal. When the law fails to recognize legitimate biological distinctions, we are all hurt but especially women and girls. https://t.co/5mmgANoNG1

— Kristen Waggoner (@KWaggonerADF) February 9, 2022
10. Yascha Mounk: Open Everything
Almost two years later, highly effective vaccines are available, free of charge, to any American over the age of 5 who chooses to take them. Antiviral pills, which will further reduce the risk posed by COVID-19, will soon be in wide circulation. We finally have the tools to live with the coronavirus. Yet life in America remains shaped by pandemic caution thanks to state directives, policies adopted by private organizations, and choices made by individuals.

At the beginning of the pandemic, we were too slow to adapt to changing circumstances. Now we are once again in danger of prolonging the status quo more than is justifiable. It is time to open everything.
11. Chuck Donovan: The Pro-Life Case Against Robert Califf for the FDA
Your editorial "Robert Califf for the FDA" (Jan. 31) unfairly dismissed well-documented pro-life and public-health concerns with President Biden's nominee. While serving as commissioner of the Food and Drug Administration under President Obama, Dr. Califf authorized the weakening of data reporting requirements on medical complications that result from chemical abortions, obscuring the real dangers these drugs pose to women and girls.

Recent large-scale, peer-reviewed research shows that the rate of chemical abortion-related emergency-room visits is increasing—more than 500% since the early 2000s. Complications can be life-threatening. Yet under Dr. Califf's direction, the FDA in 2016 stopped requiring adverse events short of death to be reported. Dr. Califf did not address his role in that decision in his committee hearing. Instead, he told the committee that he trusted the FDA's decision would be based on the best available data—data that is woefully inadequate due to his past actions as FDA commissioner.

As your editorial notes, states are stepping up to stop mail-order abortion drugs, but they have done so in response to the FDA's reckless abdication of its titular responsibilities.

Mr. Biden's pick caters to the abortion industry and the most extreme voices in his party, who put their ideology ahead of public health. There is little doubt Dr. Califf will authorize mail-order abortions permanently if he is confirmed, with countless women and their unborn children paying a dire price.
12. Smallest Baby Born in the U.K.
13. Alan J. Hawkins, Brad Wilcox, and Jason S. Carroll: Don't Diss the Early-Marrieds
Recent research suggests that young couples are doing fine, despite the stereotypes.
14. John Tierney: Understanding the Covid Odds
15. Suzy Weiss: Revenge of the Covid Moms
Natalya Murakhver, an Upper West Side mom of two, heard Maron at an open-the-schools rally in March 2021. By Murakhver's count there have been five such rallies over the past two years. There was no waiting for the politicians — "they were completely disinterested in responding to our calls" — so she sued New York in April to force the city to reopen.Then she launched #MaskLikeAKid, which was all about unmasking children. Then, in October, Megyn Kelly had Murakhver on her show to talk about all the angry moms out there. With Maud Maron. "I was a very liberal Democrat," Murakhver told me. "Now, my vote is up for grabs to whoever puts kids first."
And: For anyone who needs this:
https://www.nationalreview.com/corner/fifteen-things-that-caught-my-eye-pope-francis-urges-end-of-life-care-china-and-encouragement-for-women-in-unplanned-pregnancies/