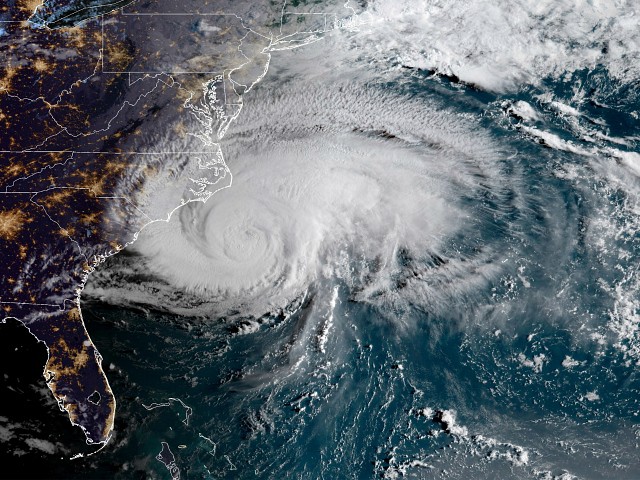 The Federal Emergency Management Agency (FEMA) has a portion of its website devoted to Hurricane Florence — now a Category 1 storm off the coast of the Carolinas — including a roundup of seven fake news stories that are swirling around in the media.
Listed under the "Hurricane Florence Rumor Control" heading, the rumors include that FEMA diverted almost $10 million to Immigration and Customs Enforcement (ICE) to pay for detention and deportation efforts along the U.S. border with Mexico.
Breitbart News reported on that fake news cycle, which started with a Democratic Senator giving documents to MSNBC and continuing as other news outlets picked up the inaccurate story:
Sen. Jeff Merkley (D-OR) gave documents to MSNBC he said proved the Trump administration transferred almost $10 million from the Federal Emergency Management Agency (FEMA) to Immigration and Customs Enforcement (ICE), just as the eastern United States faces Hurricane Florence hitting land in the next few days.

MSNBC's Rachel Maddow reported that claim on Tuesday and the story was picked up by many other left-wing media outlets as fact, even as a spokesman from the Department of Homeland Security (DHS) — the agency over FEMA — said the report was inaccurate.
"Under no circumstances was any disaster relief funding transferred from @fema to immigration enforcement efforts. This is a sorry attempt to push a false agenda at a time when the administration is focused on assisting millions on the East Coast facing a catastrophic disaster," DHS Spokesman Tyler Houlton said on Twitter on Tuesday.
"The money in question — transferred to ICE from FEMA's routine operating expenses — could not have been used for hurricane response due to appropriation limitations. DHS/FEMA stand fiscally and operationally ready to support current and future response and recovery needs," Houlton tweeted. 
On its website, FEMA addresses the money transfer rumor: "Funding was diverted from FEMA's operational budgets for travel, training, public engagement and information technology. The amount diverted is less than 1 percent of FEMA's annual operating budget."
Another rumor: FEMA plays a role in enforcing evacuation orders.
"FACT: FEMA does not have authority to issue or enforce evacuation orders. Only local and state public safety and emergency management officials have authority for issuing and enforcing voluntary and mandatory evacuations," the website states.
One rumor has to do with animals — pets and service dogs.
FEMA notes the difference between the two.
Service animals are not pets. The Americans with Disabilities Act generally requires hotels and evacuation shelters to accommodate service animals.

Private businesses, such as hotels, are not required to accept pets. Not all shelters accept pets. Check local media, or contact your local emergency management agency for shelters that do allow pets.

Pet-friendly shelters may have requirements and restrictions for pets. Check their requirements before arriving at the site.
"Rumor: FEMA Does Not Have Enough Commodities On The Ground In Preparation For Hurricane Florence."
FEMA reminds people that the private sector is the first resource for getting necessary supplies to ride out the storm.
"When their supply chain is disrupted, or stores are unable to open, then state, local and voluntary agencies will provide needed supplies. FEMA, working in coordination with those officials, will augment state and local resources as needed and requested," the website states.
"At all times, FEMA maintains commodities, including millions of liters of water, millions of meals and hundreds of thousands of blankets, strategically located at distribution centers throughout the United States and its territories," the website states.
For this current weather threat, FEMA reports it has meals, water, cots, blankets and other resources in the Carolinas, Georgia, Virginia, and West Virginia.
Another rumor is that the Environmental Protection Agency (EPA) does not have funding for dealing with disasters.
"FACT: EPA does have the budget and the staff to respond to natural disasters. The budget increased over the last two fiscal years by $5 million," the website states.
Another rumor on the website relates to filling sandbags at the beach — a rumor that defies common sense.
"Residents should NOT be heading toward the beach," the website states. "Also, sand at the beach is a vital barrier, acting as the first line of defense against the storm."
Follow Penny Starr on Twitter.
http://feedproxy.google.com/~r/breitbart/~3/LyV9SifAJJE/