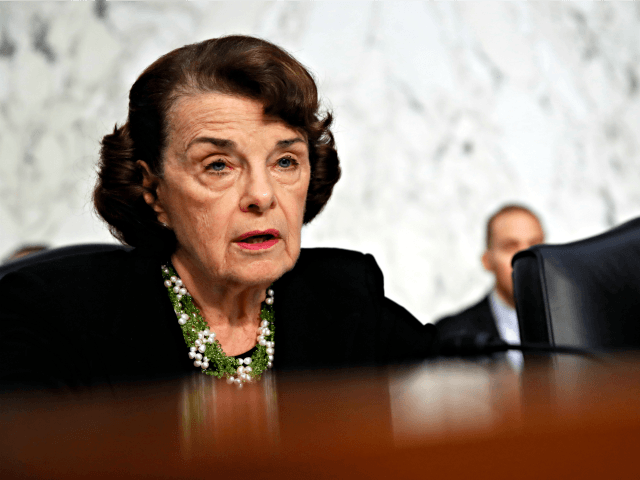 Sen. Dianne Feinstein (D-CA), the ranking Democrat on the Senate Judiciary Committee and the conduit through whom California professor Christine Blasey Ford's allegations about Supreme Court nominee Judge Brett Kavanaugh came to light, expressed doubts about that allegation for the first time Monday.
According to Fox News's Chad Pegram, Feinstein told his fellow Fox reporter Connor Marley, "I can't say that everything is truthful. I don't know."
From colleague Connor Marley. Feinstein on Ford. Says Ford "is a woman that has been, I think, profoundly impacted, on this..I can't say that everything is truthful. I don't know."

— Chad Pergram (@ChadPergram) September 18, 2018
Feinstein was, as far as publicly reported, the only senator with any knowledge of the allegations — that a 17-year-old Kavanaugh and another teenager pulled Ford into a room at a high school party, forced her onto a bed, and groped her over her clothing before she was able to the flee the room — before the story exploded over the weekend. Feinstein addressed that delay with Marley as well:
Feinstein to Fox on Ford when asked if the accusation will impact how mbrs would vote on Kavanaugh: "I know she did not want to go public. That's why I made the letter. That was taken out of my control"

— Chad Pergram (@ChadPergram) September 18, 2018
A public Senate Judiciary Committee hearing on the matter is scheduled for Monday, delaying the committee vote on Kavanaugh's confirmation that had been set for Thursday. Kavanaugh has agreed to appear under oath. Ford, the accuser, has been invited to do so as well, and her attorney said on CNN Monday that Ford was willing. As of Tuesday, however, Ford has not agreed. Fox also asked Feinstein what would happen if Ford refused to appear under oath and deferred to Republicans:
Feinstein to Fox when asked what will happen if Ford doesn't appear Monday. "I have no say. It's all up to the Republican(s)…"

— Chad Pergram (@ChadPergram) September 18, 2018
As the interview, and Feinstein's apparent uncertainty over Ford's allegations, quickly spread across the Internet and media, she appeared to walk back her doubts on her official Twitter account:
During every step of this process, I've found every single piece of information from Dr. Christine Blasey Ford eminently credible, sincere and believable. She knew this would have a huge effect on her life and she was incredibly brave to come forward.

— Sen Dianne Feinstein (@SenFeinstein) September 18, 2018
Sen. Susan Collins (R-ME), seen as a key vote among Republicans on the Judiciary Committee, meanwhile issued a letter to Feinstein and her Republican counterpart, Judiciary Committee Chairman Chuck Grassley (R-IA):
Read my full letter to the Chairman & Ranking Member of the Judiciary Committee here: https://t.co/WzOXlyPrAA pic.twitter.com/eALSEmPygN

— Sen. Susan Collins (@SenatorCollins) September 18, 2018
The letter proposes not only that Ford appear alongside Kavanaugh, but that both be subject to cross-examination under oath by the other's attorney.
http://feedproxy.google.com/~r/breitbart/~3/Xe9KKJSpLHA/