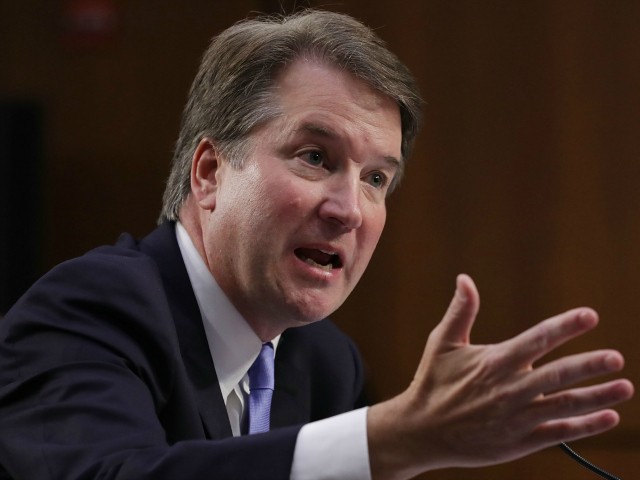 The Department of Justice (DOJ) said Monday that the FBI will not investigate the sexual misconduct allegation against Supreme Court nominee Brett Kavanaugh.
After refusing to participate in a phone call with Kavanaugh set up by Senate Judiciary Committee chairman Chuck Grassley (R-IA), led by Sen. Dianne Feinstein (D-CA), Democrats on the Judiciary Committee called on the FBI to investigate high school-era allegations against Kavanaugh.
"In view of the enormity and seriousness of these allegations, a staff-only phone call behind closed doors is unacceptable and Democratic staff will not participate," Feinstein said in a statement on Monday.
She added that the FBI "has the resources and know-how to conduct an objective, independent evaluation of these sensitive allegations with appropriately trained investigators."
Senate Minority Leader Schumer (D-NY) is also calling for an FBI investigation.
On Tuesday, Feinstein again called on the FBI to investigate the allegation of a local crime 36 years ago when Kavanaugh was 17 and still in high school:
Republicans have learned nothing from Anita Hill. President Bush asked the FBI to do its job and investigate Hill's allegations, which it did. Now, under the Trump administration, Republicans want to do even less by blocking any investigation into Dr. Blasey Ford's allegations.

— Sen Dianne Feinstein (@SenFeinstein) September 18, 2018
The DOJ, however, told a reporter for the far-left Politico, "The allegation does not involve any potential federal crime."
Furthermore, the Associated Press reports that in a statement, the DOJ said late Monday that "it's not the job of the FBI to judge the significance or the credibility of an accusation."
Nevertheless, Democrats continue to call for the FBI to investigate in the hopes it will put an indefinite hold on the vote for Kavanaugh's nomination, which has already been postponed.
The Senate Judiciary Committee was scheduled to vote on Kavanaugh this Thursday. That has now been pushed to next week at the soonest so the committee can reconvene on Monday when both Kavanaugh and his accuser are expected to testify in public and under oath.
Kavanaugh has unequivocally denied the charge that as a 17-year-old high school student he drunkenly tackled and groped 15-year-old Christine Blasey Ford.
Kavanaugh said he never attended the party in question and has a witness to back up his claim.
Follow John Nolte on Twitter @NolteNC. Follow his Facebook Page here.
http://feedproxy.google.com/~r/breitbart/~3/Vpbr88NlO2Y/