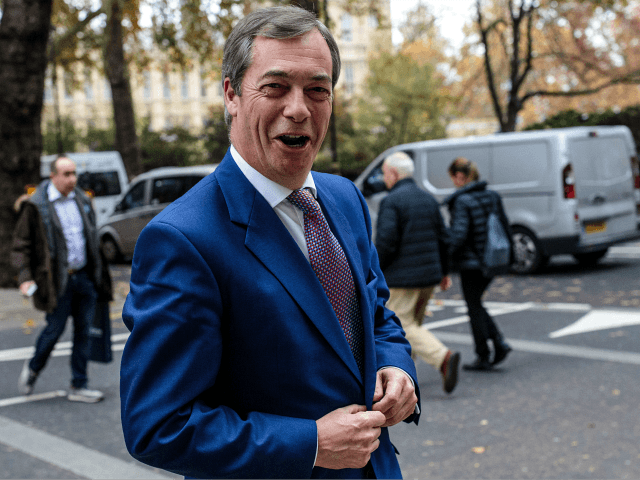 Brexit campaign leader Nigel Farage has celebrated the wave of ministerial resignations which have followed the unveiling of Theresa May's draft withdrawal agreement with the European Union, saying hopes to see her deposed within a matter of days.
"At last! Gosh, it's taken them a hell of a long time, I mean they should've got rid of her a year ago, really," exclaimed the veteran campaigner in an interview with Channel 5, evidently relieved.
"It was perfectly obvious after her speech in Florence that she did not genuinely want to leave the European Union — that's the speech where she started talking about opting back into part of the EU," he recalled.
"It's been downhill ever since. I thought the agreement that's been published overnight is rather like that which would be signed by a country that had been defeated militarily and was suing for the best possible terms from the victors," he lamented.
"I was very, very depressed about it, but now I've cheered up because it seems she won't survive the week — thank goodness."
Betrayal Agreement: Deal Text Says UK Could Remain Non-Voting EU Member Until '31 December 20XX' https://t.co/HbOWEhHofs

— Breitbart London (@BreitbartLondon) November 15, 2018
Host Jeremy Vine, who also presents for BBC Radio, put it to the former UKIP supremo that ditching May's deal would leave Britain between the Devil and the deep blue sea, however, with the country facing "two alternatives… either the hard Brexit where we simply just hang up the phone, or we stay in — because [this deal] is obviously the middle road, and if the middle road isn't there, we've got one or the other, haven't we?"
Farage was having none of it, however, insisting there is "no such thing as a hard Brexit or a soft Brexit."
"We either have Brexit, or we don't," he explained.
"We are either an independent country that makes its own laws, controls its own borders, chooses it's own friends in the world, or we're not — and that is what not only the referendum was about, but indeed the General Election [in 2017], too. Twice we've voted for this," he insisted.
Indeed, both the Tory Party and the Labour Party committed to delivering a Brexit which would take Britain out of the EU's Customs Union, Single Market, and associated Free Movement immigration regime, as did minor parties including Northern Ireland's Democratic Unionist Party (DUP) and UKIP.
The Liberal Democrats were the only UK-wide political party which campaigned on an explicitly anti-Brexit platform, and their share of the popular vote dropped to just 7.4 percent.
Follow Jack Montgomery on Twitter:

 @JackBMontgomery
Follow Breitbart London on Facebook:

 Breitbart London
http://feedproxy.google.com/~r/breitbart/~3/27HTPilXUXk/