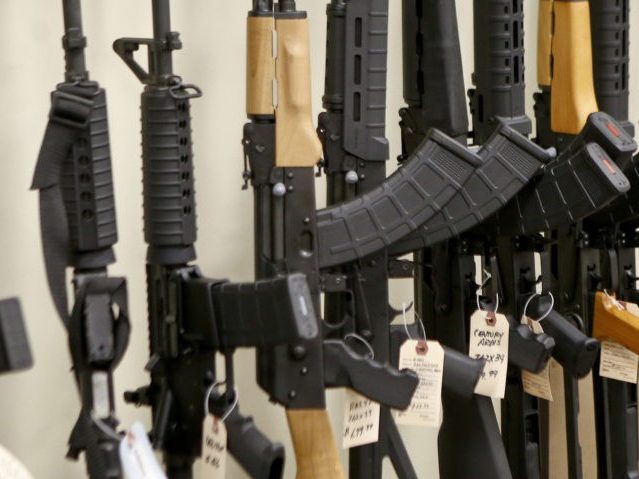 The Journal of the American Medical Association (JAMA) published a new gun control study prefaced with the claim that "semiautomatic rifles" were banned 1994-2004.
The study claims semiautomatic rifles "were banned in 1994 under the federal assault weapons ban but were reintroduced to the public marketplace in 2004."
This is Fake News 101.
The reality is that semiautomatic rifles were not banned via the "assault weapons" ban. Moreover, "assault weapons" were not banned from the market place 1994-2004 either.
On February 15, Breitbart News reported that the "assault weapons" ban only prohibited certain cosmetic features for certain firearms, but it did not prohibit the guns themselves. For example, an AR-15 purchased in 1993 could still be purchased in 1995, it simply could not have a collapsible stock, a flash hider, or a "high capacity" magazine. A "high capacity" magazine could legally be purchased to go with the gun, the magazine simply could not be purchased with the gun.
Despite this, JAMA claims semiautomatic rifles were banned and uses that ban as jumping point to claim more deaths now result because said rifles have been "reintroduced" for American purchase.
Ironically, JAMA notes that their study is limited due to "lack of data on specific injuries, demographics, and other details of the incidents." They add, "Incidents involving semiautomatic rifles may differ from other incidents in ways that partially explain the association but could not be controlled (i.e., the intentionality of the shooter).
Instead of admitting that these shortcomings, together with the inaccurate claim semiautomatic rifles were banned, marginalizes the value of the study, JAMA instead argues that it proves the need for "a centralized database" for gun violence researchers.
AWR Hawkins is an award-winning Second Amendment columnist for Breitbart News, the host of the Breitbart podcast Bullets with AWR Hawkins, and the writer/curator of Down Range with AWR Hawkins, a weekly newsletter focused on all things Second Amendment, also for Breitbart News. He is the political analyst for Armed American Radio. Follow him on Twitter: @AWRHawkins. Reach him directly at awrhawkins@breitbart.com. Sign up to get Down Range at breitbart.com/downrange.
http://feedproxy.google.com/~r/breitbart/~3/143kllTQZV8/