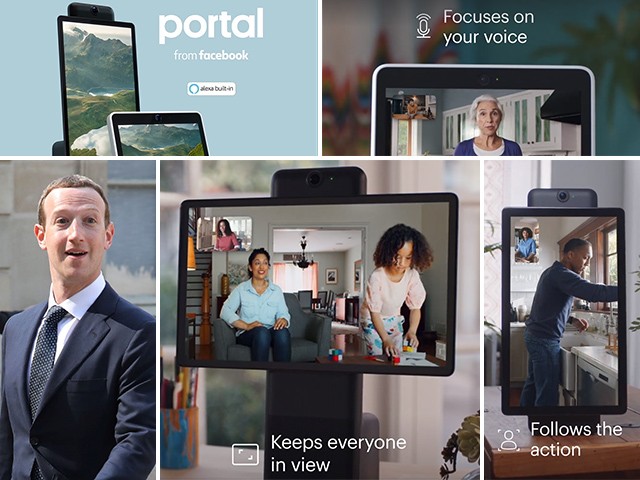 Facebook has announced a new smart speaker and camera product in an attempt to compete with Amazon's Alexa device and Google Home in observing its owner's every move.
CNBC reports that shortly after Facebook's latest user data leak, the company wants consumers to install a Facebook-manufactured camera into their homes. The new Facebook product comes in two versions, the Portal and the Portal+ and focuses mainly on Messenger video chats. The device functions as a smart speaker similar to Amazon and Google's own smart home devices, but the Portal includes a camera amongst its features. This marks Facebook's first physical product aside from the Oculus virtual reality headset which Facebook acquired in 2014.
The device is controlled via voice commands, users can start a video call with a Facebook friend by saying "Hey Portal, call …" followed by the name of the Facebook contact they wish to talk to. The Portal's smart camera detects a users face and frames them within the shot throughout the video call. Dave Kaufman, the marketing lead for Facebook's Portal division, commented on the device stating: "Portal+ and Portal really live up to that idea of helping you feel closer and allowing you to spend more quality time with people, even if they live thousands of miles away from you."
The device can also stream music from Spotify, Pandora and Amazon Music and video from Facebook Watch. Interestingly, Facebook has included Amazon Alexa software in their device, allowing users to ask questions such as"What's the weather?" or "How are my teams doing?" The inclusion of Amazon's software is an odd choice given that this appears to be a direct competitor to the Amazon Alexa line of devices.
Jonathan Collins, director at tech advisory firm ABI Research, stated: "The inclusion of Alexa is certainly an interesting move. It enables the Facebook devices to piggy-back on the back of Alexa success."
Facebook is currently accepting pre-orders for the new devices and will be shipping them next month. The Portal, which features a smaller 10-inch screen, costs $199 while the Portal+, which has a larger 15.6-inch screen, costs $349.
Lucas Nolan is a reporter for Breitbart News covering issues of free speech and online censorship. Follow him on Twitter @LucasNolan or email him at lnolan@breitbart.com
http://feedproxy.google.com/~r/breitbart/~3/W9rDVhifi98/