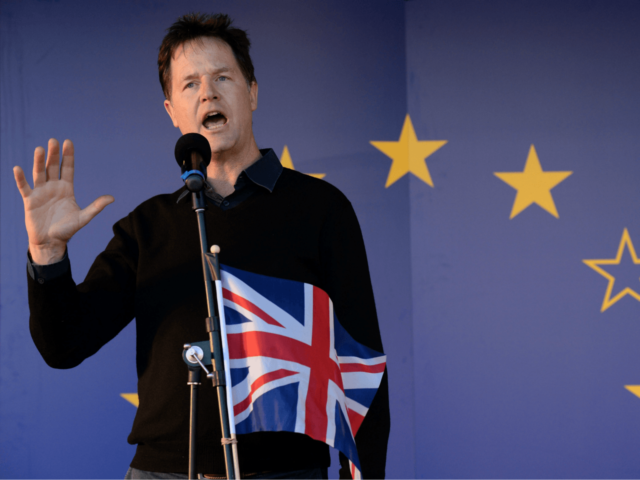 Facebook has hired former U.K. Deputy Prime Minister and prominent anti-Brexit spokesman Nick Clegg as Head of Global Affairs and Communications.
According to the Financial Times, Clegg, who was recently knighted, "will move to Silicon Valley in January to succeed Elliot Schrage, who announced he would leave Facebook after 10 years in June."
"He agreed to take on the job after months of wooing by Mark Zuckerberg, Facebook's chief executive, who told Mr Clegg he would have a leading role in shaping the company's strategy," reported the Financial Times. "The decision by Facebook to hire Mr Clegg, a former European Commission trade negotiator and member of the European Parliament, suggests the company is trying to boost its connections in Brussels, where Facebook could face some of its biggest regulatory challenges."
Facebook's hiring of Clegg — referred to as a "Europhile" in previous Breitbart reporting — is a sign that the company recognizes brewing trouble with the European government. Members of the E.U. parliament have called for an audit of Facebook, and careful scrutiny based on competition laws. The E.U. has also warned Mark Zuckerberg's platform that it could face sanctions based on "misleading" terms and conditions.
Clegg, who served as Deputy Prime Minister in the UK as part of the coalition between the Conservative Party and the Liberal Democrats between 2010 and 2015, is a prominent anti-Brexit commentator and frequently campaigns to override the 2016 United Kingdom European Union Membership Referendum results– even authoring a book titled How To Stop Brexit in 2017.
http://feedproxy.google.com/~r/breitbart/~3/q2hYUCUhAfQ/