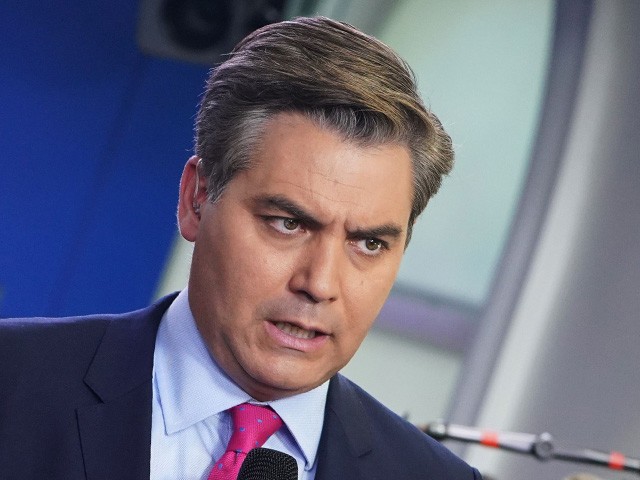 CNN Chief White House correspondent Jim Acosta lashed out at a former Trump administration staffer late Thursday night, fuming over a joke at his expense.
Justin Caporale, the former director of operations for first lady Melania Trump, mocked Acosta for complaining about loud music at a rally held by President Donald Trump in Missoula, Montana.
"Tonight the Trump campaign/WH turned up the music so loud the press risers were vibrating. Nearly impossible to do live TV," Acosta griped on Twitter. "I suppose the WH loves those kinds of shenanigans. But I wonder if it's a security concern for [U.S. Secret Service] or local law enforcement. They can't hear either."
Caporale teased the cable reporter with a two-word reply: "Dear Diary….."
Dear Diary…..

— justin (@justincap_) October 19, 2018
Caporale soon claimed to receive a direct message from Acosta that read, "F**k you."
IM SORRY. WHATTTT?????

@@CNN @CNNPolitics pic.twitter.com/dnvAP2KKsw

— justin (@justincap_) October 19, 2018
After being blocked by Acosta on Twitter, Caporale stated that the CNN reporter owed him an apology. Acosta did grant the request, responding by saying that he believed Caporale was "an old friend from the campaign."
Hey buddy I thought you were an old friend from the campaign days. I'm so sorry. Hope I didn't offend you. Have a good night and take care. https://t.co/4u9fj1BNPI

— Jim Acosta (@Acosta) October 19, 2018
Officials close to the White House say CNN has a tendency to view all decisions by the Trump administration as an attack on their newsroom. Acosta, officials say, understands his comments to Caporale crossed the line and is now attempting to walk back the statement to avoid backlash.
At this time, no comment has been issued by the CNN public relations department.
http://feedproxy.google.com/~r/breitbart/~3/kl3EOcySCiU/